14 Most Effective
Types

of Display in Retail


Which is Right for You? + examples and tips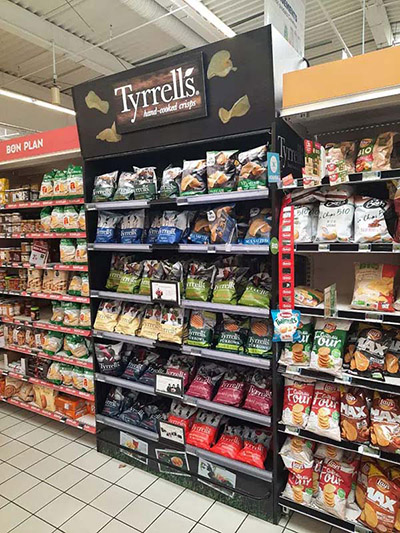 With­in the field of in­store or shop­per mark­eting a lot of en­ergy is spent on the de­vel­opment of the most sui­table re­tail dis­play. Because an effective display can help in competing for retail support, it is vital to know the different types and how they are used to making an impact on sales.

The key to an effective retail display ? 100% customization, because there are many good solutions adapted to any situation. From counter-top to specific shelving units, the return on your POP investment is well worth it ! The effectiveness of a display doesn't only rely on how spectacular it is. When done well, even the simplest can increase sales as long as it's part of a consistent merchandising and instore communication strategy.

In this article, we first give a definition of retail display and how it fits into the marketing communication mix. Then we will then go into detail on 2 groups: free-standing point of sales displays and fixed retail shelving. Both are regularly used across a variety of categories of the FMCG industry.
Before you move on
For 25 years, we have been combining imagination and industrial know-how to help brands and retail present products and communications in-store. Always on the lookout for the latest trends in the field of retail marketing, we offer unique, multi-material POP displays in a combination of wood, metal, plastic, etc. We study the retail context and the challenges of the brand, and consider technical, aesthetic, and budgetary conditions for 100% made-to-measure solutions.
Retail display, definition and meaning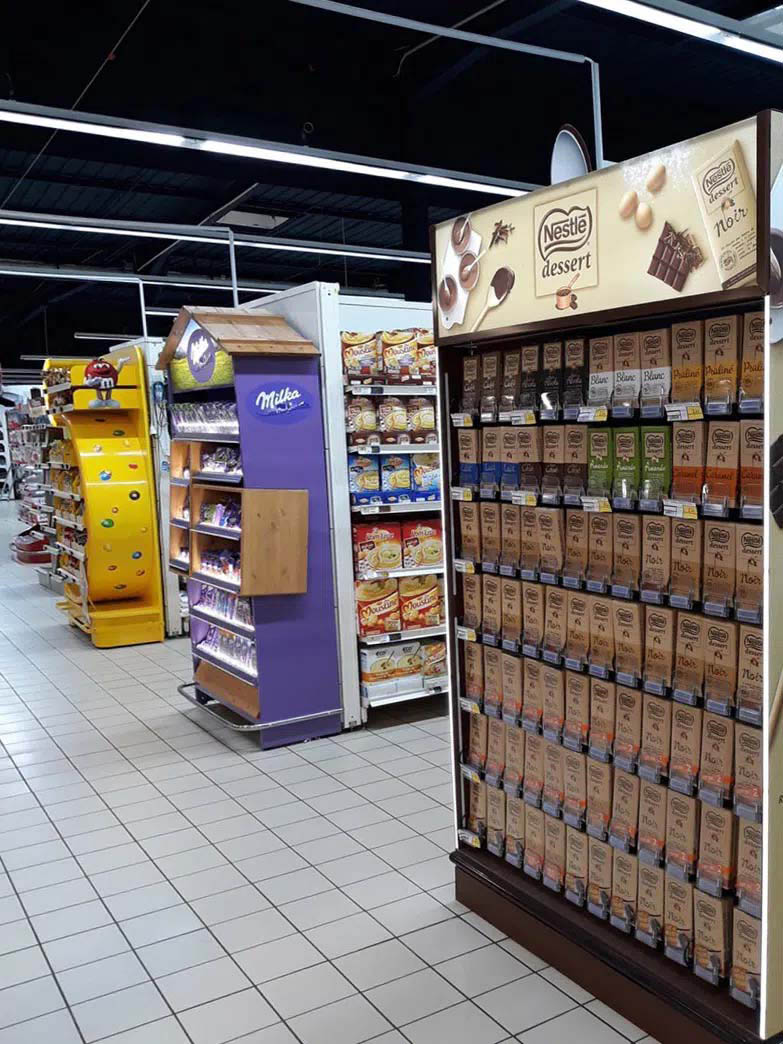 A retail display unit is used in physical retail spaces to present or promote an offer to shopping consumers. Any instore, shopper or trade marketing strategy focuses, among others, on the appearance and the communication objectives of retail display. Often, it is the first point of contact between brand, product and shoppers.

Any brand manufacturer that sells goods through retail makes use of retail display. Merchandising specialists are usually the ones who design and implement them, e.g. when launching a product, an innovation, a promotion or an activation. They also make sure that they can withstand the expected function and lifespan.

Often, a consumer has been made aware of an advertising message broadcasted through out-of-store media (TV, radio, web, social media, magazines, mailings, catalogues, etc.). Once in the store, a retail display unit takes over: the presence of the material stimulates relevant memory structures and seduces shoppers towards the location of the product, consciously or not.

Given the high number of references, it is tricky to stand out between similar products on monotonous shelves. By definition, when a client does not see an offer, he does not buy it. Retail display units activate the offer in the physical environment by making it more visible, accessible, tangible ... Research shows a higher commitment to an offer shoppers notice first (selective focus).
Point of sales display unit — explication and examples
A point of sales display unit (POP, POS, point of purchase, instore, ...) is any free-standing product presentation that draws attention to its location. It exists separate from the fixed store installations and holds products from which the consumer can shop. They effectively feature an offer into the shopper journey in the middle of the aisles or throughout the store. Free-standing or stand-alone displays play an important role in any instore marketing or merchandising strategy. They are carefully designed to stand out on the shop floor, where the majority of purchase decisions are still made.
Stocked with merchandise, a stock-holding floorstand elevates the visibility and accessibility of the products being presented at the all-important moment of truth. Featuring eye-catching shapes, bright graphics and colors, and original material use, they look attractive with the products neatly organized on specific shelves or blister hooks. They increase brand awareness and entice a shopper to inspect the products that are being displayed.

-> Related article: Why a floor-display should be part of any marketing mix ?


2. Isle unit
These are free-standing presentation materials that can be accessed from any direction. They are situated anywhere in the store where there is an open space. They are powerful displays since they break through traffic-flow patterns and keep shoppers engaged.


3. Display cases
A display case (or cabinet) is a kind of free-standing display unit that is closed on all sides by glass or transparent plastic windows. It protects the most valuable articles from direct contact with shoppers. To gain access to the products, shoppers may have to contact shop associates who will retrieve the item from the display unit. Because of their security, high-end items that are prone to theft will often find their way into these displays.


4. Glorifier
Brands can design unique glorifiers to display their product in a non-traditional way. Serving ornamental purposes with a exceptional visual experience, that is simultaneously attractive and informative to the shopper, glorifiers represent the perfect platform to set a product in scene with almost unlimited possibilities regarding shape, design and material. Since glorifiers are only intended to theatrically bring out the product qualities and features, shoppers can find it on its home shelf.



A counter display unit is a stand-alone presentation, usually with smaller items. Placed on a shop counter or a table, it encourages consumers to purchase spontaneously. They are a great way of showcasing products instore without utilising floor space.


Animations are set up in the window of a retailer to entice potential customers to come in and take a look. These displays are beneficial as they represent the retailer and can be the deciding factor on whether a shopper enters the store in the first place. The can create a visually attractive design that conveys a brand, a product or the retailer.


Gondolas are larger 1 to 4-sided, free-standing shelving units that appear in larger open areas of a store. Meant to house items for as long as needed, they can have repositionable shelves which allow for more than one type of product to be displayed. While they typically are made from metal, there are numerous options for brands to promote the offer through graphics, scenery and attractive color schemes.


8. Informational POP display
This category covers all the signage materials to guide and orient visitors, but also to inform them about product features, benefits, technical information, use, etc. The materials do not always refer to a product. In practice, the distinction is not always straightforward ...


Customer-centric digital strategies, along with technology, offer opportunities for traditional retailing (and brands) to orient customer choice, advise on product features, help to sell, make the most of the (limited) physical space, ...


Retail shelving — explanation and examples
One of the most important factors of successful stores is the impact their fixed installations have on shoppers. Every detail has been thought-through for a subtle game of seduction and conversation. Thanks to a pleasant scenery and a clear layout, customers will stay longer or come back more often. Here's some of the most common attention-grabbing options :


Shelving units, or racks, are used to display and stock merchandise. They are solidly constructed with steel free-standing brackets to which adjustable shelves are attached, often with a high load-bearing capacity,

Single or double sided, these storage systems are used to organize the shop floor in aisles and to draw traffic patterns. Organized in appearance, they neatly display products on shelves, hooks, baskets ... They can be equipped to communicate with shoppers, divide merchandise into categories, save time when replenishing, reduce out of stock ...

(Related article: The most effective shelf management solutions explained)

Sometimes store shelves are to be adapted to the specific characteristics of the products or buying behavior for the categorie. This provides an opportunity to innovate with attention-grabbing design, shapes, colour, light, graphics, layout and, above all, flawless interaction with the items being presented. Instead of standard store systems, brands can develop tailor-made racks that allow for a more dynamic presentation, space efficiency and, on top of it all, a memorable visual experience for the shoppers.


Paired with shelving units, endcaps are placed at the ends of the aisles. Since shoppers pass by them when going from one aisle to another, they give a prime location to attract a lot of eyes — and shoppers walking through the main alleys can see products without even going down the aisle. As with gondola shelving, end cap units are sturdy, heavy duty retail shelving options that can handle heavy merchandise.


An on-shelf display is any type of product presentation that exists on a store shelf. They organize the allocated space to showcase products, inform and interact with shoppers, put forward a novelty or a promotion, clarify or categorise an assortment, .... The physicality of these materials allow for unrivalled creativity. Shelf-edge trays and frames can be used to break through the visual monotony of retail shelving.


A shelf stopper (or a shelf talker) is the signage material you see sticking out perpendicularly to aisle shelves. Similar to a wobbler, it increases the stopping power of a product and improves brand image. They're powerful instore marketing tool to bring a product into the spotlight within the aisle.

(Related article: 5 tips to stand out on retail shelving with a shelf talker)


Also called a power wing, a sidecap or an endcap side display, these are small point of sales materials designed to efficiently maximize the use of space. They give the chance to get a product on shelves beyond primary placement, or simply to add a few extra facings. They are also ideal for cross-merchandising as they can bring together products that may be consumed together. Placed in adjacency categories to drive awareness and impulse purchases, the shopper no longer has to change aisles to get the complementary product.




Appealing display can make the difference between attracting a new customer or losing that customer to a competitor. Here at Pilotes, we believe in the power of premium display. Our 25 years of experience allows you to enhance the appearance of your offer in-store. Reach out today to set up a free consultation. We'll find the best solution for your brand.

Date: July 2020