The retail merchandising solutions to organise assortments


Retail

shelf management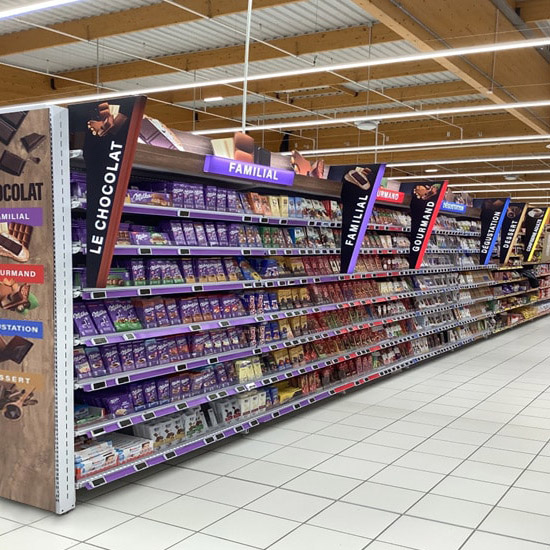 The production manager fastens the last bolts on the new production line. The prototypes have been approved by the research department. The financial department makes available the budgets to anchor a clear advertising message, imagined by the marketing department, in the minds of the target audience. The sales manager convinced retailers to free up shelf space. Calculated in profitability per linear metre, they are the best places in retail land.

Product launches can be tricky. With so many brands on the shelves, it's a challenge to get noticed from the beginning. How do you make a new range stand out from the shelves ?

While there is no miracle layout, one thing is sure: shelf layout creates value and therefore more profitability at point of sales.

Because there are many good solutions, adapted to any context and product, it is important to know which materials are the most effective ... and how to use them to promote sales, along with stronger consumer loyalty.
Before you move on
For 25 years, we have combined imagination and industrial know-how to help brands and retail present products. Always looking for the latest trends, we offer relevant and sustainable display design solutions, multi-material in a combination of wood, metal, plastic, etc. We study the retail context and the brand's challenges, considering technical, aesthetic and budgetary conditions for 100% customised, durable materials.
What is shelf management material ?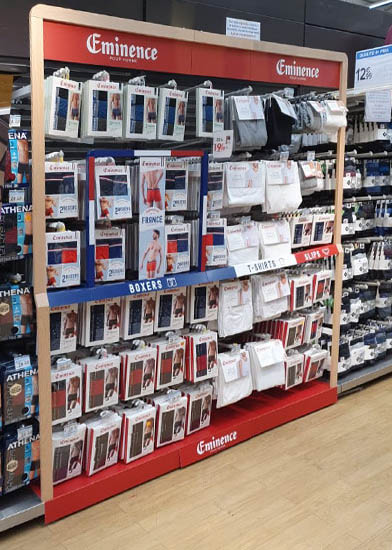 If merchandising is defined as the set of techniques used by retailers and brands to enhance the meeting between consumer articles and shoppers, shelf management provides for the instruments to layout and to enhance a closer relationship, which have proven effectiveness in terms of sales in stores, the main buying-decision centres.

The materials create impact with attractive product presentations. They allow shoppers to conveniently understand the offer - one of the basic rules of effective merchandising.

Inconvenient, cluttered spaces require more cognitive effort and reduce buying intention. Organization, informative or educational messages, ... improve the buying experience and shelf efficiency - a win/win for retail and brands.
What are the most effective shelf management solutions?
1. Shelf edge strips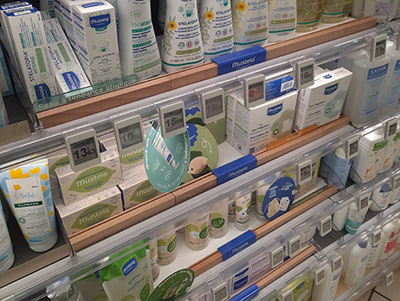 Display price, keystone for any transaction, is the primary function of the strip (holder, profile, ...) placed along the shelf. There are various strips for all (electronic) label formats and for any type of shelf.

The strips offer possibilities to transform the shelf edge into a communication tool. They can be provided with a printed visual ... to decorate, to communicate product benefits, consumption moments ... or they can orient shoppers.

They can be fitted with various accessories, such as LEDs to attract the eye and enhance the range or advertising messages (or both).
2. Shelf tray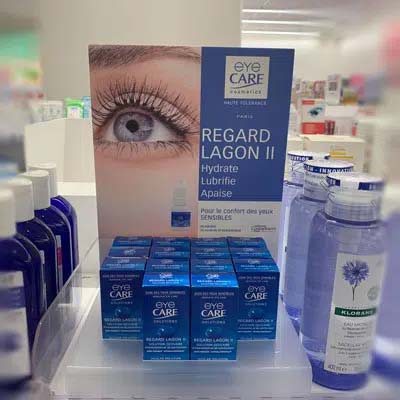 When a consumer evaluates an item, he or she takes it in the hand, reads the information on the packaging and then, he puts it back. Some shoppers are more precise than other!

Designed to give the perfect fit every time, shelf trays are the ideal solution to provide better stability. Especially useful when space is at a premium, they can define and preserve allocated space. Also, they can carry out branding and communication.
3. Shelf divider system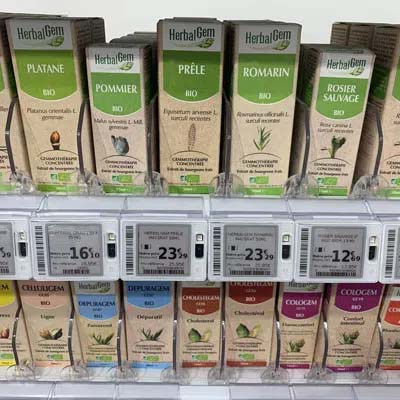 Shelf divider systems have been developed to reduce time spent keeping shelves well-organised. It ensures an appealing product presentation and can be adapted to fit many packaging formats.

Easy to install and adjust, dividers are clicked into a rail, which can be fitted with many other accessories.
4. Auto-facing or self-levelling system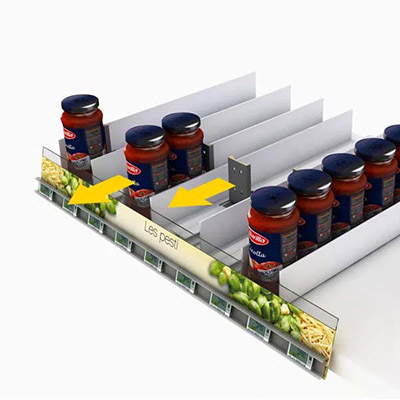 Facing, also known as levelling, recovery, straightening, is simply the act of getting a retail store ready for customers, a common multi-daily activity to increase shelf impact and make the store looks great. Shop associates pull the products on the shelf to the front to keep the shelf appearing neat and organized. Well-executed, it gives a better visual understanding of the offer.

Auto-facing brings together the various techniques by which the facing is automatically done. When a product is taken by the customer, the product behind it automatically takes its place.

Automatic systems can be based on push mechanisms, gravity or roller shelves.
5. On-shelf communication solutions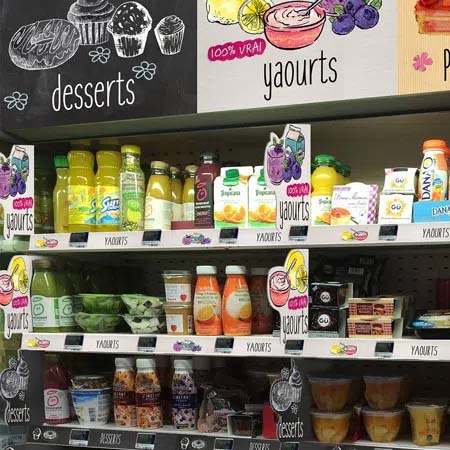 Shelf-stoppers, plinths, posters, banners, cheeks, frames, brochure holders, coupon holders, digital screens ... various materials can bring live into the limited space of the shelf.
6. On-shelf POS displays
Retailers use standard shelving – steel uprights on which repositionable shelves are attached. It is possible to replace the shelves with a custom-made POS material ... generally to adapt the presentation to the range on display or to increase shelf efficiency.

It is also possible to remove several shelves to fix a mini shop-in-shop. This exercise offers the opportunity to innovate with a more sleek, dynamic and disruptive universe, corresponding to the brand codes.

Suspended by hooks, a custom-made wing or sidekick display can be fixed to the shelves, for example for cross-merchandising initiatives.

5 guidelines for shelf management materials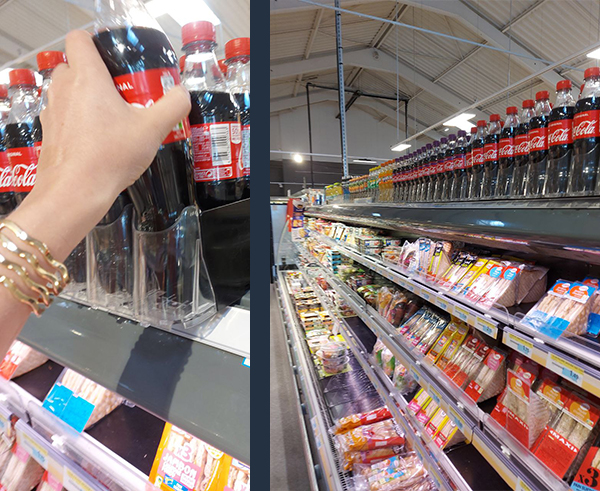 1. Shapes and design
Ideally, the material is designed to enhance consumers' touch behaviour - shoppers prefer to touch round, soft shapes. For their safety and comfort, avoid sharp corners and edges.

The materials should improve the presentation of the products, without stealing the spotlight.
2. Space optimization
The number of articles in retail is increasing, shelf resources are limited, competition is tough, every centimetre is counted. It is clear that the desirability of a solution depends on its footprint on the shelf. Any idea to optimize, define or preserve the space is worth exploring.
3. Shelf life
Most investments in these materials are intended to last for a long time. Solid materials, easy to maintain, reliable shelf fixation, resistant to intense usage at point of sales ...one thing is sure, if they are adaptable to assortment changes, their shelf life will be extended.
4. Eco-design
Although eco-design does not compromise in any way on effectiveness nor desirability, it aims to bring together all conditions to reduce the environmental impact of the initiatives.

The effort of the POS industry has led to a number of operational recommendations for the use of materials.
5. Profitability
The objective of any merchandising initiative is to stimulate consumer purchase. All retailers and brands can use merchandising to enhance their product presentations. This requires however a careful choice of techniques based on the products and the margins they generate.



Have the advantages of retail merchandising aroused your interest? Reach out today, we will gladly ideate for your product.

Date: Aug 2020