Visual merchandising in retail:


The Whisperer of Temptation to

drive sales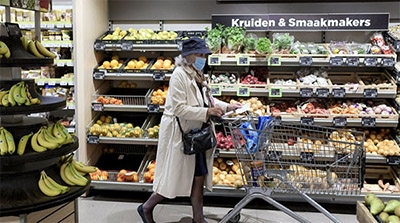 V
isual merchandising refers to the way retail, supermarkets and brands arrange products to maximize sales in physical stores (point of purchase, point of sale, instore). It includes assortment strategy, space arrangements, product presentation, display design and implementation (installing and shelving).

Driving brand awareness and differentiation, the purpose of visual merchandising is to compete for attention of shoppers in retail, shops and supermarkets, who have high expectations when it comes to the instore experience. POS display and product presentation that are always well organised, but also in such a way as not to irritate or even make the shopping experience enjoyable, will find buyers returning for more.

With the number of references growing faster than the average store size, visual merchandising materials will undoubtedly carry more weight tomorrow than it does today. At the same time, customers are spending less and less time on their purchases, so only good visual merchandising can provide an understanding of the offer.

With a focus on product presentation and POS display initiatives in retail and supermarkets, let's revert to some of the basic rules of visual merchandising in retail.
Before you move on
Designers and makers of point-of-purchase materials, display, merchandising and commercial furniture to equip shops, team Pilotes is committed to creating 100% custom-made, multi-material solutions, with a focus on environmental and societal benefits.
1. Choose Eye Level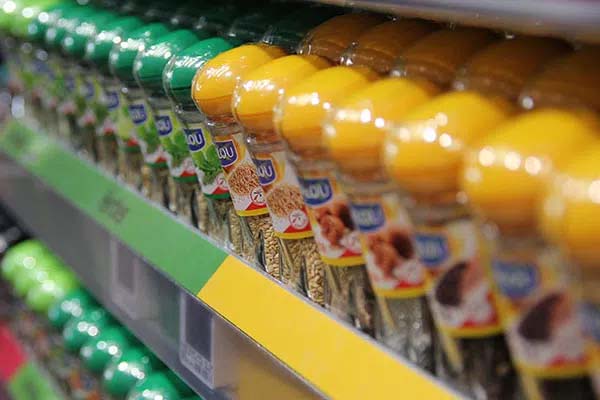 This refers the ability for shoppers to easily discover or find products. When a buyer doesn't see a product, it's likely to gather dust on the shelf. Don't forget how important product visibility is, especially when relying on impulse purchase.

Taking into account that the average man is about 1.75 meters and the average woman is about 1.63 meters, products positioned at eye level (120cm – 170cm) tend to receive the most attention. This prominent location is the ideal spot for key products – they are more important than others and should be readily accessible without your shoppers having to work to find them. Use the lower shelves (90cm – 120cm) for items in the next margin bracket down. Products with the lowest margins are placed on lowest levels (90cm and under) - bending down to pick up items is always a pain.

Inclined shelves with a high shelf edge can significantly increase the visibility of higher stacked merchandise. However, most shoppers will not even bother to look up to the highest shelves (180cm and above), unless they are really searching hard for a product or the items displayed up high are truly eye-catching.
2. Grab 'n Go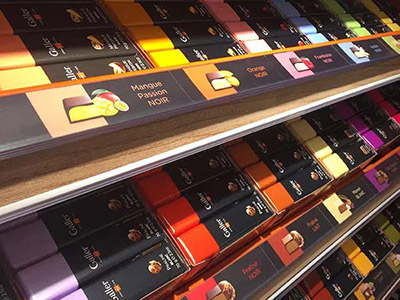 Merchandising is largely about improving mental and physical availability. The most basic convention of visual merchandising, shopper convenience or shopping efficiency is one of the most effective ways to encourage sales. Customers want to find things quickly ! Making life easy for shoppers to get their hands on a product and to grab it off the shelves to scrutinize, is probably the most important need at the point of purchase.

A fully stocked display, with products faced up on the shelf edge, is essential to attract attention. And stock sitting at the back of shelves will not get bought! Because empty shelves create a bad impression, remember to align the number of facings and shelf size to re-stock frequency and secondary packaging content.

Different types of visual merchandising materials, such as divider and pusher systems or a gravity shelf or a product tray can allow for appealing presentation, abundant display and any type of merchandise ready to just jump off the shelf edge, allowing shoppers to make their choice quickly and easily (and to cut store floor staff hours spent re-stocking or facing up products on shelf).
3. Product understand, a clear and coherent image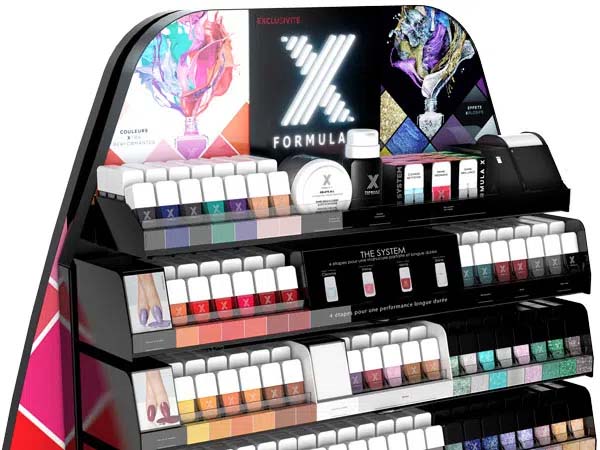 Some customers have more time to shop but they still want to be efficient. They need a greater variety of items and more niche products. However, you can't just hope that shoppers will scan your range and figure out for themselves what to do. Limit the first impact to one key message that shoppers will recognize. Use merchandising materials, such as segmentation, shelf edge signage, shelf-stoppers, glorifiers or digital (touch) screens, in contrasting colours and simple language, that stops shoppers and leads them towards a purchase decision.

While options encourage purchases to an extent, don't overdo it; too many choices can actually decrease the chances of a sale. Don't overwhelm shoppers with chaos. Instead, point out a display with a carefully curated selection and a sense of organization and good awareness of choice.

With the number of references growing, an important challenge for retail is to help customers make a choice. Brands and retail are increasingly taking a proactive role in shaping choice architecture. As a result, customers experience a high level of product knowledge, craftsmanship and service ... and tend to remain loyal.

Remember that the average shopper will devote not more than a few seconds of cognitive attention to something before moving on. Don't distract your audience by overstimulation. Focus on clarity to increase conversion rates.
4. Get creative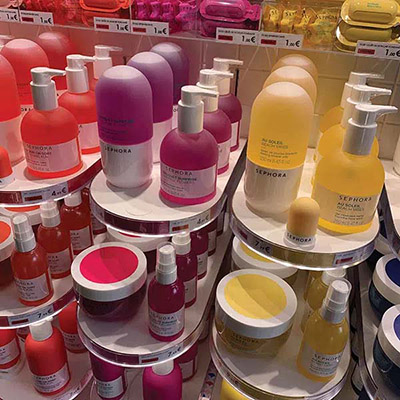 With the product always in focus, conveying brand's storytelling is crucial. Because it can clearly separate your offer from competition, subtly evoking your brand personality begins with the feeling you want customers to identify with.

Since every purchase process starts with the eyes, visual stimuli, colors and shapes ensure your display reflects your brand - and will make consumers more likely to remember.

Material matters! Shoppers enjoy touching round, soft items. Design merchandise display with these touch moments in mind. Avoid sharp corners and edges for shopper's safety and comfort.

Also, the material of the display matters to the customer's visual perception of value and authenticity. Wood gives the impression of "real and quality," but shoppers may perceive a higher price for items displayed on natural wood shelves.
5. 100% customization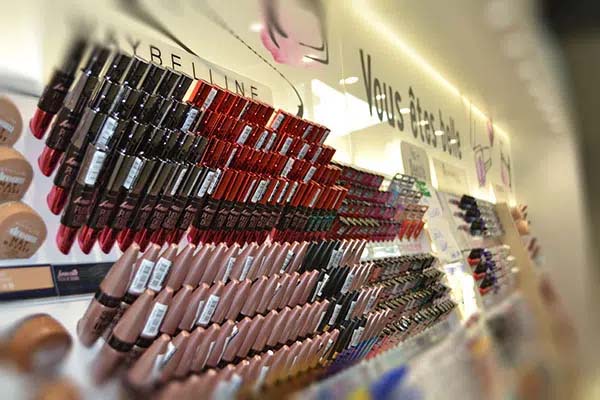 The key to effective visual merchandising? 100% customization, because there are many good solutions adapted to context and the shopping behavior for the category.

Browsing for the latest nail polish palette (or lipstick or facial mask) is probably one of the most intimate shopping practices. It is no surprise that visual merchandising is an essential skill of any cosmetics company, an industry that's all about image. With pride and serenity, they offer intuitive display for the consumer to engage with the line, guaranteeing frictionless interaction with the small products, always neatly organized throughout time.
6. Cross-sell and up-sell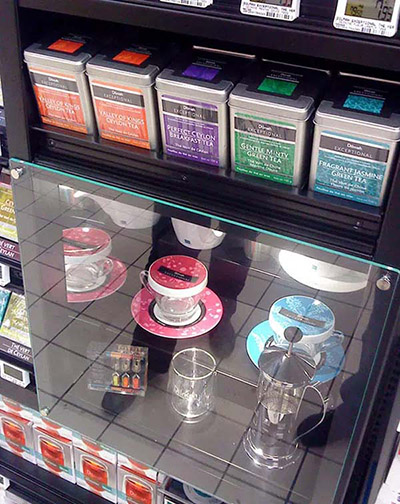 Another great tip for increasing visibility and sales is to group items so that you can cross-sell and up-sell. Grouping items that complement each other, makes your offer exciting and dynamic.
7. Show Your Price
This one might be a bit obvious, but it's sometimes forgotten: the price tags. When you're shopping, what do you think when you pick up an item without a price tag? Probably that it's very expensive.
8. Make the first few seconds count
You need a Wow! first. To attract shoppers, make the merchandise look GOOD. Make sure your display is creative, unique, well-executed... and always clean and tidy. Obvious, yes, but this is much more important than you might think! Faded posters, a mismatched theme, sloppy-looking shelves are the worst... it attracts no one!

Date: July 2020 — bh
---
Have the advantages of visual merchandising in retail and supermarkets aroused your interest? Reach out today, we will gladly ideate for your product.