Merchandising tactics for cosmetics and makeup


POP display elevates shopping for beauty products


Beauty brands, as well as retailers, want to present their offerings in a pristine and organized manner. Often the cosmetic and makeup items are diverse, small, irregularly shaped, and atypical, making the risk of mishaps in self-serve scenarios high. That's why display and merchandising play a crucial role in the beauty industry. In this article we provide a few tips for the most glamourous of all point-of-purchase or POP materials.

1 900 words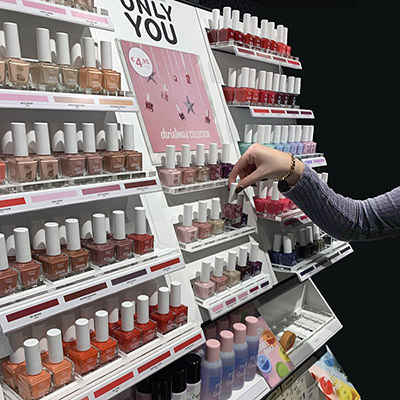 Shopping for cosmetics, makeup and well-being is one of the most intimate and sophisticated buying experiences. You can get them in a variety of settings: supermarkets or hypermarkets, drugstores, pharmacies, department stores, perfumeries, specialty or glam experience beauty stores, where visitors first orientate before a make-up coach helps them further.

The category includes items that improve the appearance and health of face, eyes, lips, and nails, such skin and hair care, lipstick, foundation, blush, mascara, eyeshadow and liner, nail polish, and complimentary products for everyday or glam purposes.

Brands strive to differentiate themselves in stores by attracting attention, showcasing their products, building loyalty, and ultimately selling more. The products are often small and come in atypical packaging, making it challenging to create effective self-serve display. Additionally, while having more options may seem like a good thing, choice can actually overwhelm shoppers, leading to decision fatigue, potentially resulting in no purchase. This is especially true for omnichannel consumers who value time and quick browsing.
"During a typical shopping trip, shoppers visit only a fraction of a store's departments and categories, examine a small subset of the available products, and, in some cases, make selections in just a few seconds", Identifying the Drivers of Shopper Attention, Engagement, and Purchase - Raymond R. Burke and Alex Leykin (source)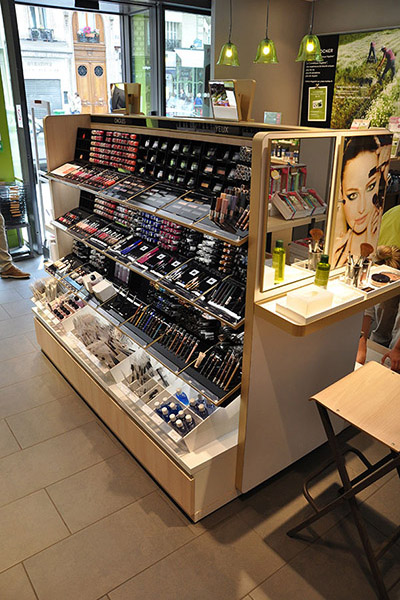 Dreaming of that little extra glamour, buyers don't object to a well-presented assortment. Always in a hurry, they want to quickly navigate through the products, pick them up, manipulate them, and find what they're looking for. Some shoppers seeking experiential play with products may not follow a clean and orderly impulse. This is the high-pressure school of selling beauty items.

Functional product display plays a crucial role in presenting and stocking merchandise in a self-service environment. Each manufacturer develops a proprietary layout to optimally showcase its offering, with clear, bold, and direct designs that allow shoppers to immediately recognize the brand.

The materials are more than just a functional solution - they become a three-dimensional advertisement for the brand. Everything from design, space management, shelf organization, signage, imagery, and graphics, play a role in creating visual appeal that entices shoppers to examine and shop from the brand.

So, what's the recipe for an effective display? As a trusted partner for beauty manufacturers and retailers, we've developed a few key takeaways to create the most glamorous of POP solutions. But first, let's define its role.
Before you move on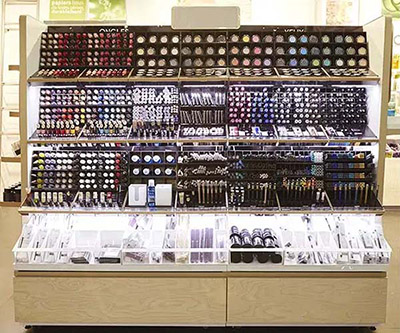 Combining imagination and industrial knowhow, PILOTES creates and makes customized, permanent, and multi-material point-of-purchase solutions and furniture. We specialize in meeting the unique in-store and merchandising opportunities and challenges faced by brand manufacturers and retail companies. Our goal is to promote visibility, attractiveness, and sales by effectively and simply subliming product offerings. At the same time, PILOTES offers strong ecological and societal benefits.
The role of POP display for beauty, cosmetics and makeup
In the cosmetic and makeup category the role of merchandising has always been great. It's usually the merchandising specialists that develop and implement the display systems. They understand the importance of displaying products in the best way to attract and engage customers in physical retail spaces. They make sure that they withstand intensive use in busy shops over the expected lifetime.


In most cases a consumer has been made aware of an advertising message broadcasted through out-of-store media. Once in the store, the point-of-purchase materials take over. Their presence stimulates relevant memory structures and seduces shoppers towards the location of the product, consciously or not. These advertising tools stocked with merchandise activate the offer in the physical environment by making it more visible and accessible.

The beauty category places significant emphasis on developing the most effective materials. Customization is key to creating an impactful display, given the variety of solutions.

Free-standing display units are a popular option, with attention-grabbing shapes, bright graphics, and vibrant colors that interact seamlessly with the merchandise.


Tailor-made designs for store shelving can also create a more dynamic presentation and memorable visual experience.

In instances where replacing store fixtures is not possible, a shelf-on-shelf display module provides a permanent solution for displaying cosmetics and makeup in the aisles.
1. Organize the battleground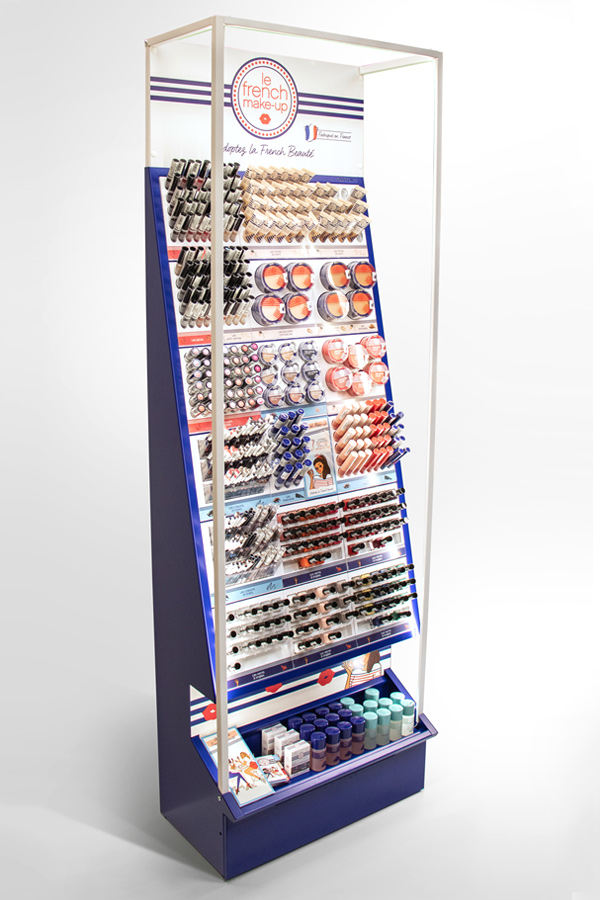 In retail, everything is a battleground. The competitive beauty category is no exception. Brands are looking for ways to distinguish where it counts, in stores.

For some shops, it is the key to success, but a "treasure hunt" is not equally appealing to most customers.Uninteresting, unclear, inconvenient, or messy product presentations are overlooked. They require more effort and reduce buying intention. Shelf organization, together with informative or educational messages (without overloading, please), bring in a relaxed experience for shoppers. Customers understand the offer and they are able to make informed decisions. And as they experience a sense of expertise and quality, they will be motivated to build a closer relationship with the brand on display.

Remember that all commercial messaging should be direct, quick and consistent. The browsing shopper always focuses on the physical product, and solving his purchasing problem. He doesn't want to make an effort to understand and remember your message. Telling too much is probably the biggest slip up, the shopper is already gone before the end of your story. One message too many and you've created a black hole where no communication manages to get through.
2. Unseen is unsold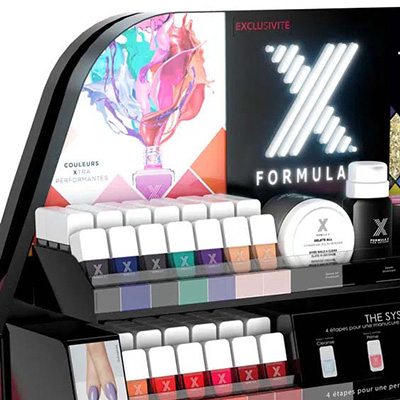 While the number of brands and articles is constantly increasing, physical retail remains limited in space. Top-selling items are usually displayed at a height that is slightly above eye level and extends to about knee height, ensuring that they are within quick reach of shoppers. The products that tend to get the most attention are in fact not eye-level, but closer to chest-level. Much above or below shoppers may not see the products, unless they happen to be looking intently.
"The product level that has the greatest propensity to capture shoppers' attention is approximately 14.7 inches below eye level (which is around chest level)", Understanding Lateral and Vertical Biases in Consumer Attention - Chen, M., et al (2021) (source)

Retailers, and their instore materials, that make inefficient use of space will not last. When the luxury of space is lacking, sales per square millimetre is one of the most important indicators of the success of presentations. Typically, displays in this category host a diverse range of types and colours. So plan your display carefully with a planogram. It lays a solid foundation for your investment.
3. Testing leads to buying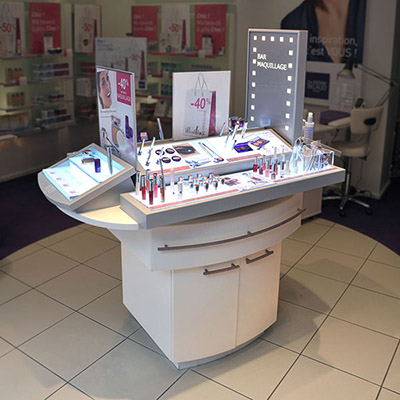 Prestige beauty brands know that testing leads to buying, and so they encourage it by creating a favorable environment for shoppers to try the products before making a purchase, which is understandable considering how expensive the products are, and how they differ in appearance depending on skin.

Remember that everything must be super-user-friendly, with testers and mirrors placed on the most prominent spots. Before shoppers are willing to put your product on their face or hands, everything has to be secure and extremely well maintained.

Also, the fixture should be build considering that shoppers need simple amenities like tissues, for instance, which improve the overall neatness the presentation.
4. Differentiate your brand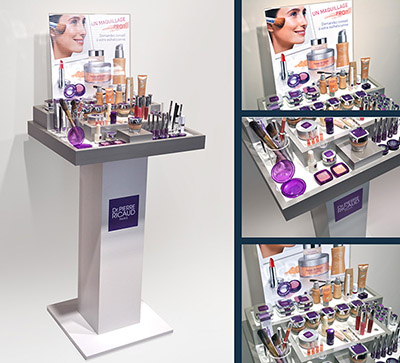 Having a rich brand is crucial in the beauty category. By making use of primary and secondary elements, such as logo, design language, graphics, colours, materials, imagery of smiling models, brands define the target audience.

To reflect the prestige character of the choice being presented, the initiatives should source from the brand's DNA, and story. Authentic materials used to build the fixture can capture a look and feel.

And though there are many options for accents and differentiation, shiny black and white acryl, or PMMA, has been so successful that it has almost become the standard for the cosmetics sector. Or, if acryl isn't exactly in line with your brand, consider using lighter shades of natural wood. This will give your products an earthy, all-natural appearance.
5. Consider modular, evolutive design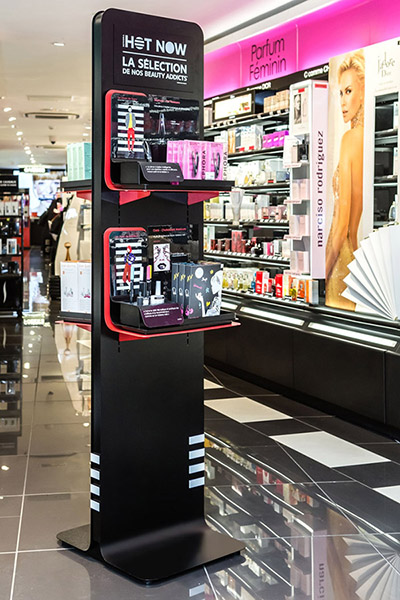 The beauty industry is constantly evolving. What's hot this season, is out next. Trends come in straight from fashion runways, influencers, Insta or TikTok. R&D and marketing departments are fighting tooth and nail to get the innovations in stores before competition does.

The needs of the person shopping during a lunch break trip to restock on a favourite item are much different from the shopper coming in on an weekend trip to experiment and get new Saturday-night-out beauty ideas. To satisfy the later, and to be able to bring in exiting new types, styles, colours and innovations, display units should be adaptive and evolutionary.

The most successful brands use modular design together with solid proprietary palettes, trays or inlays, made from mold acryl; they can be quickly replaced as the assortment evolves.
CASE: Reinventing the makeup departement for a supermarket chain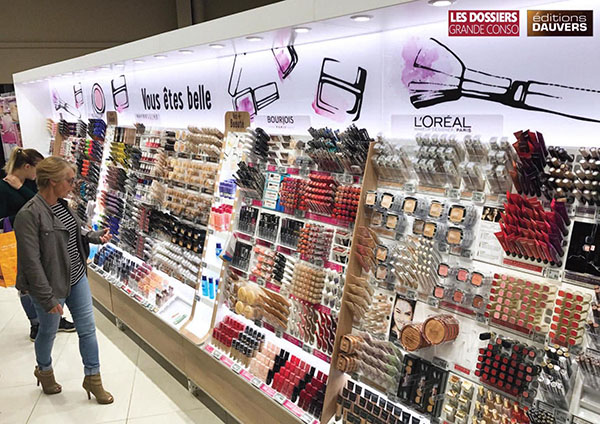 How to reinvent and revitalize a makeup departement? Here's an example for the range at Système-U super and hypermarkets. Our team developed a boutique experience in a very feminine self-serve setting.
display for naked products, without blister packaging, and open shelves allow shoppers to easily pick products up and help themselves
hot-now discovery zones for new cosmetics ideas and inspiration
the shelving is made of multiple materials, including wood for a warm and comfortable image,
vibrant colours and led-light add vitality,
a bright, visually appealing atmosphere seducing shoppers to engage the category,
shopper ergonomics,
adaptation to existing shelving,
equipped with a generous storage capacity,
and fully modular for evolutionary merchandising and segmentation ...
By making this department a destination store for beauty fans, it is a powerful weapon to differentiate itself from competing points of sale. This new presentation strategy has garnered double-digit growth in sales.








Are you planning a bespoke display for your beauty brand? Reach out today to set up a free consultation. Our experienced craftsmen will use their skills to create a quality display that is not only functional but also visually striking.

Date: april 2022 — bh