The 2 pillars of in-store marketing


Product

presentation

and in-store

communication

: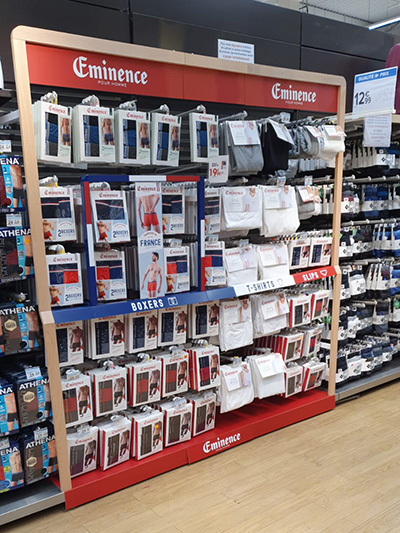 A
dynamic product presentation attracts attention and puts an offer in the spotlight. In-store communication creates the opportunity to convey a message just before the act of purchasing - it's not necessarily product related.

Although the difference between both is not always clear, they create a positive experience for the consumer. Often, the two methods go hand in hand.

Let's have a closer look at their significance and meaning:
Before you move on
Combining imagination and industrial knowhow, team PILOTES creates and makes customized, permanent, and multi-material point-of-purchase solutions and furniture. We work closely with brand manufacturers and retailers and align 100% with their unique instore and merchandising projects.

We are dedicated to innovative and functional design that influences the situations surrounding the act of buying. Our goal is to enhance the visibility and appeal of product offerings with simple, relevant, and effective display.

We're proud to be a family-owned business with a strong commitment to ecological and societal values.
Product presentation or merchandising
It is tricky to stand out on the shelves between similar products. Research shows that shoppers show a higher commitment to an offer that they notice first (selective focus). Product presentation activates the offer in the physical environment by making it more visible and accessible.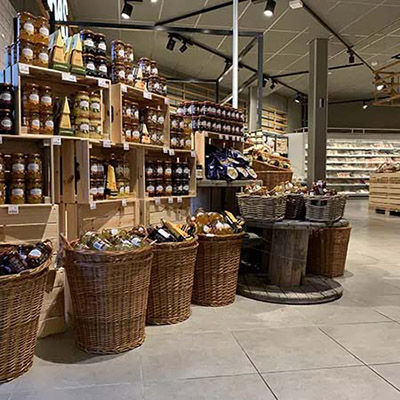 Instore presentation materials are used to promote sales of the items on display, especially by attracting attention with the way they are presented.

Product presentations often arose relevant memory structures. In most cases the consumer has formed a long-term attitude for a certain brand through other media (TV, radio, web, social media, magazines, etc). Product presentation subtly appeals to the shopper's memory (and physical and cognitive motivation) and seduces him, consciously or unconsciously, to the location of the product.

Shoppers are often willing to wait for these 'offers' to help themselves in the buying process and to improve the speed and convenience of shopping. Presentations can indeed be experienced as helpful to facilitate the shopping journey. Ultimately, they stimulate purchasing decisions. In the longer term they reinforce the image of the product with its target audience.

The presentation solutions exist in all sizes, shapes and materials. Diversity is probably their biggest advantage. Therefor they are always adapted to the brand, the product, the shop format, context, target audience, the values and marketing objectives of the advertiser, etc.

- Related article: 12 most effective types of retail displays explained

In-store communication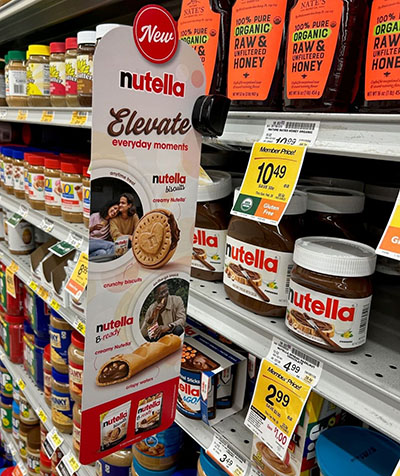 In-store communication, also known as the "advertising of the last metre", is used to influence shopper behaviour with new information or by activating previously picked up messages (e.g. in a mass media campaign).

While a consumer walks through the store in 'buying mode', short and powerful stimuli aim to trigger him. Navigational messages and signage guide him through the offer on the store shelves. Or messages along the shopping trip can promote understanding, encourage action, stimulate thinking or inform about product features, such as benefits, assortment, quality, price, technical information, moments of use, etc.

There are various solutions to communicate at point of sales, such as horizontal and vertical banners, merchandising materials, posters, top cards, wobblers, shelf-stoppers, shopping cart advertising, folder material, video screens, floor advertising, etc.

While presentation is more likely to stimulate sales through impeccable and creative display, instore communication tries to arouse trust and service by facilitating product inspection and purchase decision.

- Related article: The 7 types of instore communication
- Related article: Why consumers prefer instore advertising ?

Presentation and communication: strategic instore marketing methods
Having a great product available does absolutely nothing if the customers don't know about it. That's where instore marketing enters the picture: it does the job of connecting an offer with its target audience and communicating what it can offer them.

In-store marketing is an important part of the marketing communication mix for any brand. Marketers who are able to manage instore actions at the time of purchase enjoy a competitive advantage. After all, up to ¾ of purchases are decided on the shop floor!

The initiatives of the so-called "6th advertising medium" can be subtle and at the same time very effective. They are efficient thanks to costs.

Stimuli within the shops can provide for the recognition of new needs or forgotten needs, and thus lead to unplanned purchases.

In-store marketing and the creative power of a brand can breathe life onto the shop floor. The involvement with the materials in the final phase of the shopping trip is high. They enhance the stopping power of a product and give the personality of the brand an extra boost. Finally, they foster trust and customer loyalty.

Date: Nov. 2020 — bh
---
Are you interested in the advantages of product presentation and in-store communication ? Reach out today, we will gladly ideate for your product.