Why consumers prefer

in-store advertising

?


What are the opportunities for brands ?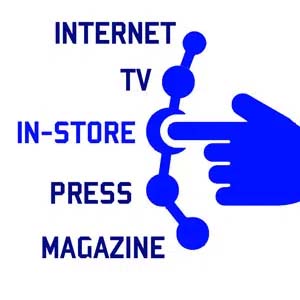 The assessment of advertising may differ in your home market, but the 4th POPAI France barometer confirmed earlier findings: about 1000 on-line participants appreciate in-store advertising as the form that encourages most to purchase. A relief for our POP-sector, and all participants in the selling process.

63% of the participants feel closer to brands that advertise in-store. This is especially true among 18-24-year-old. Among the five media examined in-store advertising reveals the best qualities. It is in the lead for its power to motivate to purchase (38%), its usefulness (40%), its persuasion (36%) and its non-intrusive nature (30%).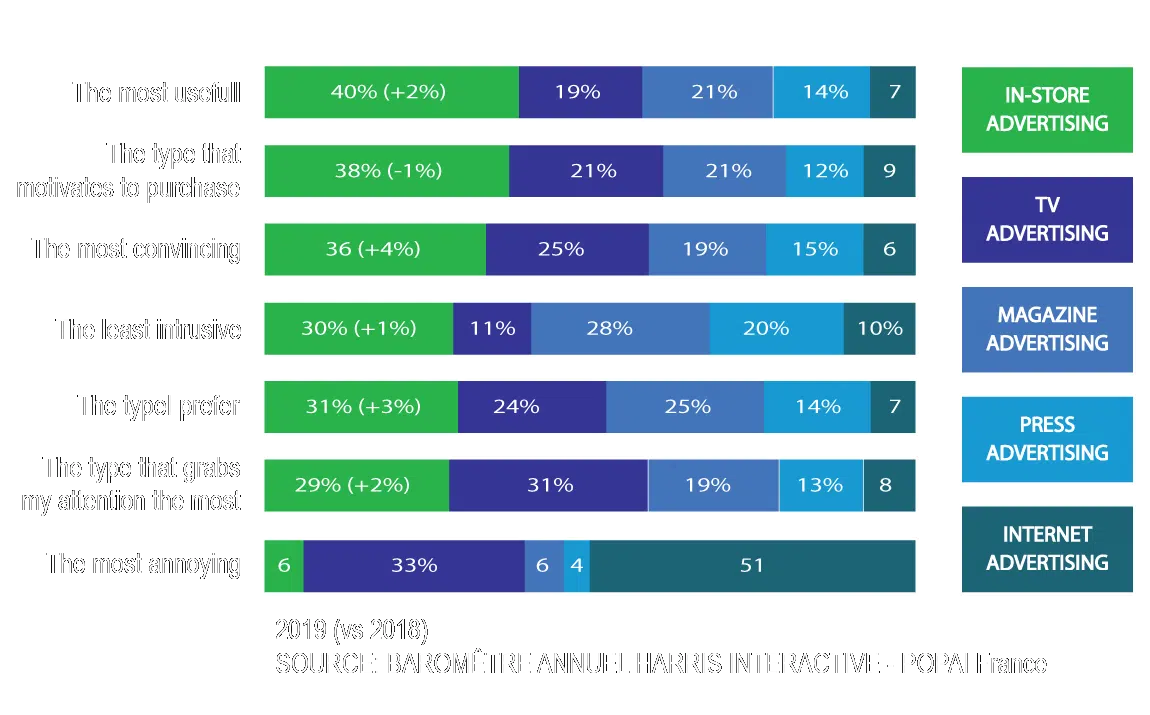 The materials that have the most impact are POS displays (68%) and testers (60%). Posters (52%) and shelf talkers (45%) also turn out to be very effective. The effectiveness of digital screens remains limited.

Download here the research sheet (PDF in French).
Before you move on
Designers and makers of point-of-purchase materials, display, merchandising and commercial furniture to equip shops, team Pilotes is committed to creating 100% custom-made, multi-material solutions, with a focus on environmental and societal benefits.
What is in-storeadvertising ? — A definition.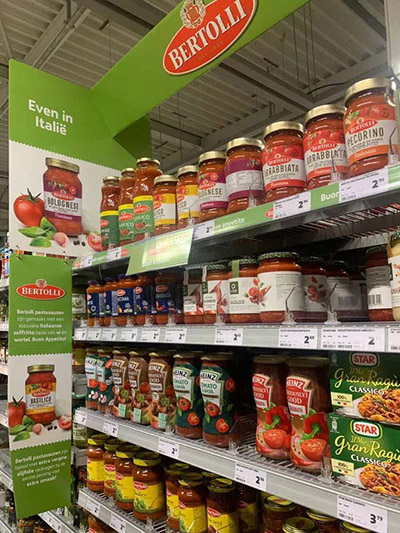 In-store advertising is defined as the practice of promoting brands and products by addressing the consumers directly while they are in a physical store. Located at retail points, presentation and communication materials affect perception and purchasing decisions of interested visitors.

Usually, manufacturers build positive attitudes towards a brand through out-of-store advertising. In this continuous flood the overwhelmed consumer has trouble remembering the variety of messages. That's why brands use synergetic in-storeadvertisements to refresh relevant memory structures of the shopping consumer. in-storeis useful to highlight an offer or a novelty, to prompt for action, but also to help customers to memorise a message.

Out-of-store primarily influences attitude towards brand, and then product. in-storehas more influence on purchase intentions. Since it is where consumers make their purchase decisions, the point-of-purchase is a suitable place and moment indeed to prompt for action That explains the potential of in-storeadvertising, especially in supermarkets. The investments are justified inasmuch as in-storeprovides useful service for all participants in the process (brands, retail & consumers).

Now let's take a look at what, in our biased opinion, explains the popularity of in-storewith its public, the shopping consumers.
1. Bring in the geeks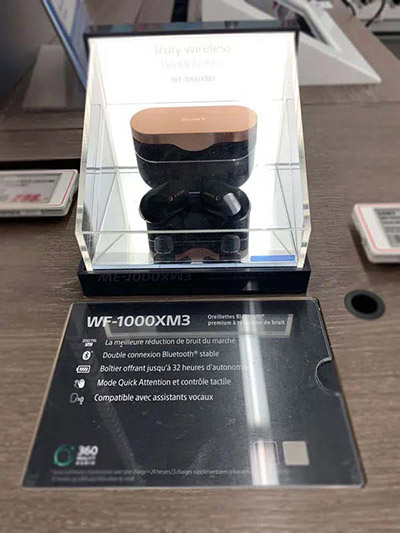 Access to valuable advice is one of the main raisons why consumers come into a store, an environment that is all about creating trust. It makes all the difference when they can engage with store associates who are passionate about the products they are selling.

The trend toward self-service with fewer associates available to help, forces customers to make purchasing decisions on their own. Fixed shop installations, together with quality, eye-catching, easily adaptable in-storematerials, are then becoming essential to intrigue customers and give them the friendly nudge they need.

Even in well-staffed stores the materials can offer extra selling information and orientation. Consumers like "choice" as a concept but have trouble managing it as they shop. As sales support at the store level is declining, a customer can be helped by in-storematerials. Serving as a silent salesperson, they can provide support in purchasing decisions, show what a product does for them, how it works, or how they can make the best out of it.
2. Experience remains crucial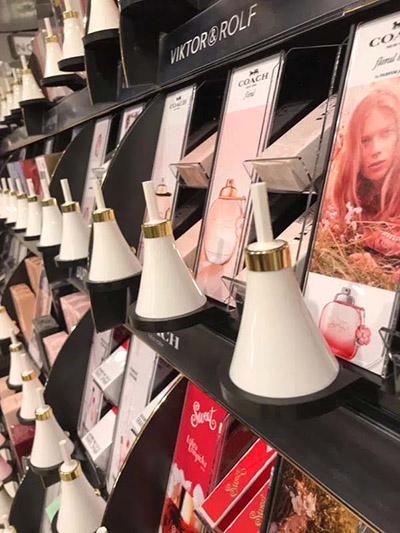 Consumers are happy to restock online regular items they know, making simple decisions based on utility or price. When consumers need more than a simple transaction, they relish memorable, tangible, sensory experiences.

in-storeexperience isn't everyone's cup of tea though. Some prefer a quiet browse, free of interruptions. Others want a little more dialogue and interaction; they appreciate presentations and merchandising tactics that make the product accessible to see, touch, feel or smell.

In-store interactions can influence perception of product trust. They show the manufacturer is serene about his offer, and that the consumer can judge for himself its relevance. They allow potential buyers to become familiar with a product or experience the benefits.
3. Consumers prefer to discover products themselves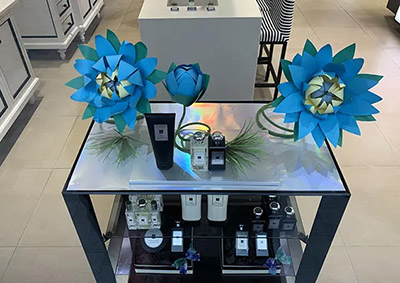 There's a common belief that consumers are inclined to distrust messages that are delivered via traditional forms of advertising. They prefer to discover new brand and products themselves. Most of the times consumers want to get their shopping done as quickly as possible. Yet this doesn't mean they aren't open to discovery after they have found what they came in for.

Once customers have changed their shopping mode from planned to opportunistic, browsing in-store is an important source of self-discovery. With new product development happening all the time, choice and variety do not always cut through the clutter. In-store advertising is then an efficient way to keep consumers up to date. It makes products visible on the pathways of the browsing shopper in a non-intrusive manner, with the trust in the brand increasing alongside the experience.
4. Contextual communication as close as possible to the purchase decision
Lack of coherence with the moment is part of what makes advertising feel intrusive, loud or irritating. Brands strive to deliver relevant information when consumers are most receptive.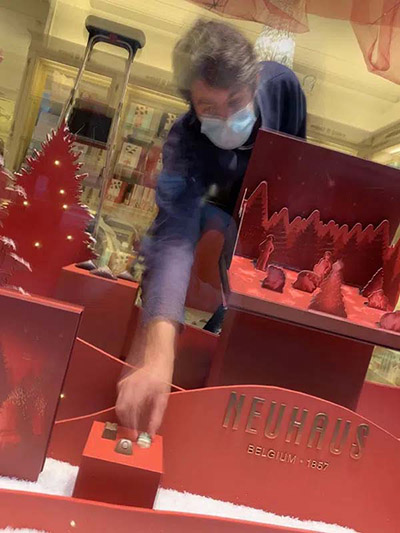 For 58% of consumers (POPAI France barometer) in-store perfectly fulfils its role of providing product information. The shopping consumer has a pragmatic relationship with in-store advertisement. At the last meter of his shopping journey he welcomes knowledge. He is motivated in learning about a product just before purchasing them. At these moments, when by the way he appreciates speed and efficiency, in-store advertising can help him make the right decision.

The in-store message should always be designed to be direct, clear and concise with an immediate connection with a product or service that satisfies a need or want. The consumer drops out when the message is too complex. He spends on average between 1 and 2 seconds on an in-store advertisement.
5. Shopping efficiency
Consumers prefer situations that simplify the shopping process. In-store can provide this value. It activates an offer by making it more visible. Product and information can be found quickly.

The browsing shopper is often willing to 'wait' for these offers that improve speed and convenience. Ultimately, because in-store stimulates purchasing intentions, on the longer run they reinforce the image of the product with its target audience.
6. The moment of inspiration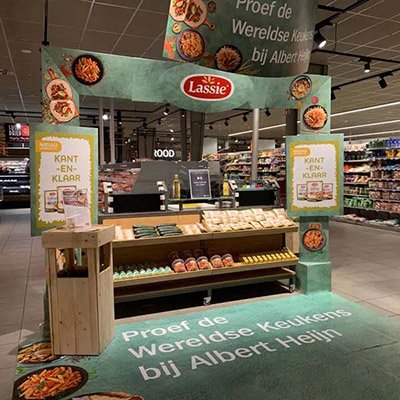 Sometimes shoppers don't know what they are looking for. If during a shopping journey inspiration is lacking, in-store can indeed be experienced as a helpful start of the first step into the consumer journey.

These materials can take different forms. What remains consistent is that the better they appeal to the senses, the faster they get the imagination of the shopper running.

Inspirational advertising works in just about any retail environment. They remedy lack of ideas and can bring new customers into a store or a department.
7. Visual relief
The biggest advantage of in-store advertisements is that they exist in all forms and sizes, and that they are 100% custom-made. Unlike fixed store installations, made-to-measure presentations and communications can be easily adapted to the brand or product product, the location or the purchase patterns for a assortment.

Originality, impactful materials, 'WOW!'-want-to-see-again, disruptive design, light effects, vivid colours and alluding visuals, but also consistency, reliability and activation, can elicit emotions or arouse curiosity towards the unknown or something new and compelling.

After all, most of the shoppers find shopping a task-driven, tiring exercise. It's no surprise they welcome visual relief, making the shopfloor dynamic, exciting and less monotonous. A well-crafted in-store advertisement should always be eye-catching - difficult to ignore in less than a few seconds by shoppers functioning on autopilot.


Winding up
Changes in shopping activities and expectations, along with an upsurge in self-service and impulse buying, mean that in-store is playing a more important role in consumer decision making. To improve customer experience and satisfaction, the physical shop is being transformed into a lively space dedicated to dialogue, building trust and brand interaction.

Every brand that needs the physical shop to sell products can develop strong in-store tactics as part of their overall marketing strategies. Sparking discovery, in-store advertising offer brands a positive way to activate trusted marketing to both existing and new customers.

Studies have shown repeatedly that consumers appreciate in-store advertising along his pathways. It makes him feel confident. No medium is more effective than display, merchandising and shopping experience.

Of course, you knew already that you would expect no other conclusion from a display builder. We hope that the quality indices we mentioned feed the conversations between all participants to the selling process in physical environments.

We recommend that these elements be taken into account for your next advertising campaign to prevent it from becoming too original or too boring. Given the budget, you may not be able to pick up on everything. Setting clear communication objectives and a good creative brief are half the battle won!

Date: Nov. 2020 — bh
---
Are you interested in the advantages of in-store adverstising for your brand ? Reach out today, we will gladly ideate for your product.