10 tips to
increase

retail

sales


with POP display + examples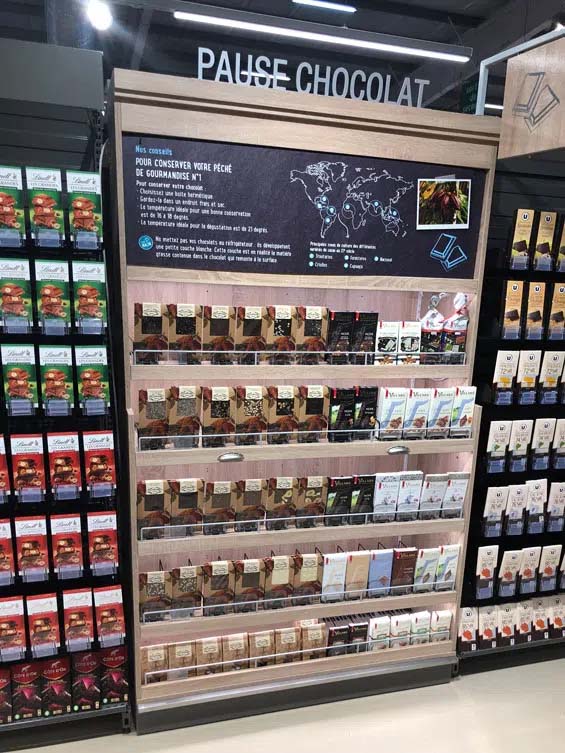 T
hese days, the shopping experience is a barrage of information launched at shoppers from all directions. Brands that are able to attract and engage with shoppers, effectively stopping traffic patterns, maximize opportunities. If they want to succeed, they should master executing well instore.

How do they get shoppers to interact with and eventually purchase products? POP display (point of purchase, point of sales, POS, instore) is a dynamic way of "cutting through" the interference. If approached well, POP display stimulates growth, builds brand equity, reinforces loyalty and results in a long-term relationship with the shopper.

But, first, let's dip into what POP display is.
Before you move on
Designers and makers of point-of-purchase materials, display, merchandising and commercial furniture to equip shops, team Pilotes is committed to creating 100% custom-made, multi-material solutions, with a focus on environmental and societal benefits.
What is POP display?
Point of purchase is defined as the physical space where consumers engage with products. POP displays themselves are instore marketing materials that exist separate from the store's shelving, effectively inserting a product into shoppers' sight and journey, in the middle of the shop floor or throughout the store.

POP display is a critical sales tool; it elevates a brand or product above all the clutter, tempts or educates shoppers, encourages them to try a product, and ultimately skyrockets sales. After an activation, POP display continues to boost sales thanks to increased brand equity.

POP display can also enhance a store. The best ones breathe life onto the shop floor, making it look exciting and dynamic; a win-win for retail and brands.

A POP display is more customizable than store shelving. There are numerous possibilities adapted to all situations. The only limitation is undoubtedly the imagination of the POP producer, who designs and makes them 100% customized through a 5-step creation process. This means brand marketeers can coordinate with the brand or product. But in order to get the most out of them, a POP display has to be creative, unique, and well-executed.

Not sure how to do that? Here are 10 POP display tips, because success doesn't just come down to just one thing.
1. Help retailer merchandise products
Brand manufacturers want their products to be presented neat and tidy in retail, though the latter is often limited by time and space. By offering their products together with a POP display, brand manufacturers can dictate how they want their products to be presented, saving both themselves and retailers time.

This is particularly true for small or irregularly shaped items. Representing a risk something goes wrong when interacting, chances are that shoppers end up irritated and walk away without buying.


2. Understand your target audience
Common marketing states that differentiated brands should sell to different groups of people, or should sell for different occasions or uses. What sort of people buy a brand? Or who will benefit from the product? By defining the target audience, brands don't lose track of what they're selling. The answer depends on a variety of factors —lifestyle, demographic, the type of retailer the display will appear in and in what category the display should fit.

POP display offers the rare opportunity to invest marketing initiatives on the right people, those who consume the product.

Whatever the choice, with a clear, coherent and recognizable image it can relate with, POP displays won't go unnoticed by the target audience. This can be done through imagery, graphics and colours.


3. Go for the Wow! factor
The best way to attract and convert customers is to wow them. The creation of a POP display allows for unrivalled creativity. It offers a unique chance to innovate with eye-rubbing shapes or designs. After all, your POP display is the expression of your creative force. Make it pop!


4. Combine the right materials and lighting
Materials do a tremendous job of clicking shopper eyes. To succeed in the jungle of shopping, flex your creative muscle to mix materials; they make a POP display look dynamic. Also, a material reflecting the brand or product identity, can immerse the shopper in its universe. Whether the product is medium, high-end or luxury, choice of materials, relevant to their image, create a cohesive image.

Bright lighting makes POP displays even more attractive. Use LEDs anywhere you feel you could benefit from a little extra push.


5. Use color to appear faster on shoppers' radars
Color is the soul of POP displays. They help customers recognize products. The right contrast helps the images and messages stand out. This slows down shoppers and they may turn from being a browser to buyer. As a result, the display attracts attention, encourages product inspection and selection.

💡 Related article > The Colours of POP Display Influence Shopper Behaviour


6. Incorporate video storytelling
POP displays offer great opportunities to communicate directly with shoppers. What makes a product special? What does it? How can consumers use them? And how can they make the most of it? By incorporating videos at the shelf, on counters or in digital POP displays, companies send out a salesperson who can show every shopper at the same time how a product works.


7. Add digital solutions to your POP display
Though the point of purchase remains the place to fully experience, touch and feel products, digital solutions can answer the changing expectations of a physical store visit. Digital instore strategies, along with relevant digital and connected display, can point consumers in the right direction, animate an offer, advise on product features and increase conversion.


Since they became more accessible, touch technologies are gaining in popularity to create a tailored digital experience. Check out what Moët Hennessy Diageo is doing with a 22' touch screens tablet fixed to the shelves of its "Whiskythèque" in super- and hypermarkets. An interactive bot orientes shoppers through a range of premium whiskies. All actions are recorded and can be retrieved at any time for market research.


8. Organize space, categorize and educate
If you're presenting a larger assortment, this is particularly important to prevent "analysis paralysis" — the feeling a shopper gets when the options are overwhelming. Chances are they end up confused by too much choice and walks away without buying anything from the display.

An organized display doesn't just look good, it also allows customers to find what they need faster. Categories, informative and educational content facilitate a pleasurable experience, or suggest knowledge and expertise. The better a POP display is structured, the more loyal consumers will be to the assortment. The customer is better able to locate the product on the shelf, while being informed about uses and occasions of consumption and reassured about the quality of the products. It is in point of sales that these stories must be told !


9. "Try before you buy"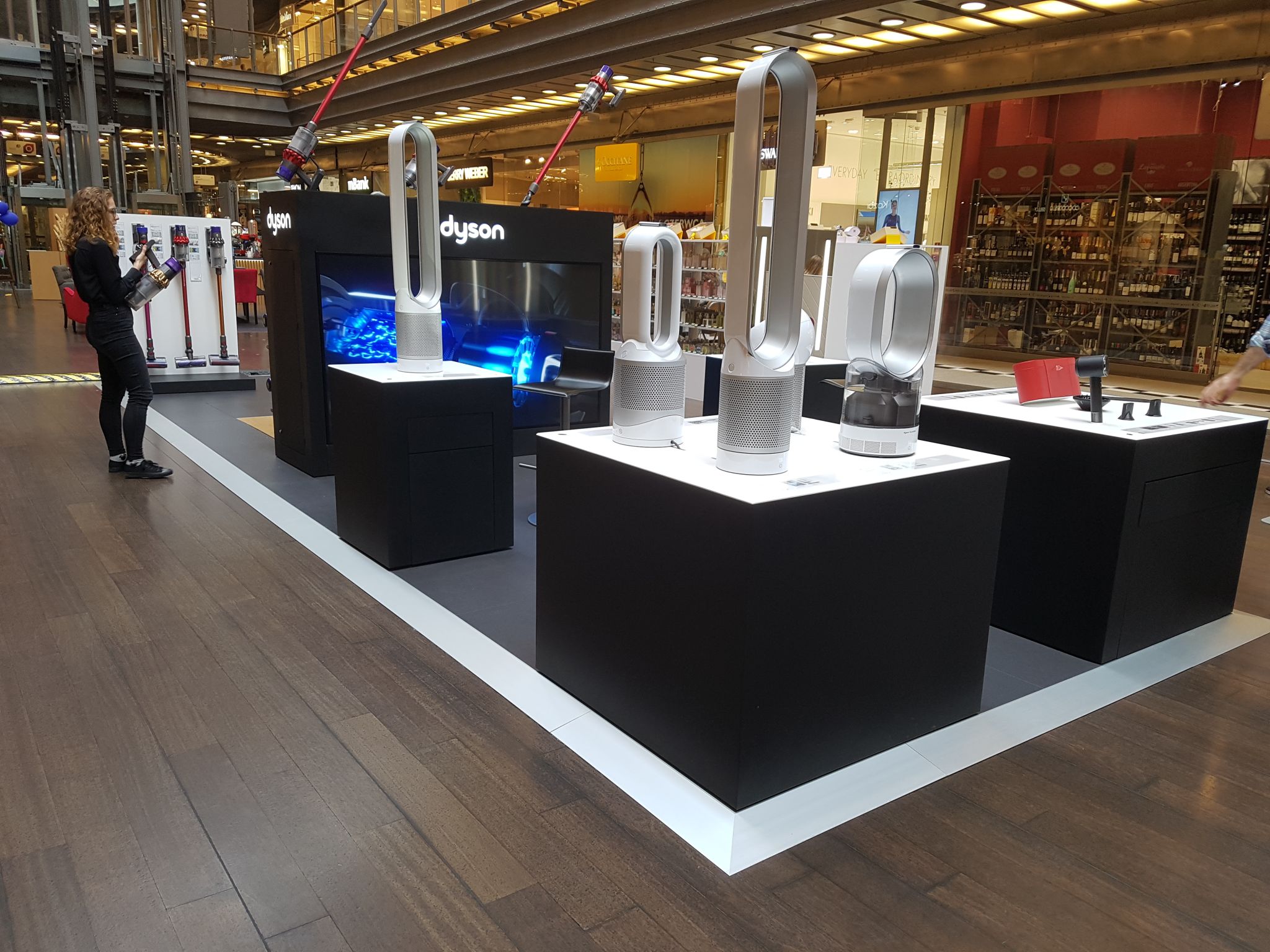 Nothing beats getting to touch and try before deciding to buy. POP displays can be used to allow shoppers to see your products in action or to try it out on the spot. They can promote the items on sale by encouraging customers to feel, smell, taste or try.

This possibility reassures that you are proud and serene about your offer, and that the shopper can judge for himself the relevance of your offer. Offering a trial allows potential buyers to become familiar with your products and understand the benefits.

This also represents a win-win for industry and retail. Feeling, trying and testing products are the main reasons for consumers to go to physical stores. Retailers have understood this: trying became a key element of the buying experience in many departments. Keep in mind that consumers don't want to spend hours learning how to use your product... everything has to be super user-friendly!


10. Plan instore execution
After finding the perfect idea to show your brand to the world, the fun part starts: getting it organized. Instore execution is how vision and a cool idea transform from the theoretical into reality. Exceptional experiences don't happen by accident, brands have to create them and implement them on shop floors down to the tiniest detail.

How do you get POP displays into stores? Communicate your plan and guidelines. Resolve mistakes as quickly as possible. Make sure POP displays are always tidy and well-stocked. Evaluate sales and product positioning to highlight newer or more popular items. By monitoring you can determine what works, what doesn't, and make the appropriate changes. Visit stores or use audit and merchandiser solutions to gain visibility into what goes on instore, so you can make sure that your displays are being well executed.

Date: July 2020 — bh
---
Have the advantages of point of purchase displays aroused your interest? Reach out today, we will gladly ideate for your product.