About the attention economy in retail:


How brands win the race
for attention of shoppers


The point of sale gives advertisers access to consumers when they demonstrate commercial intent. Visitors come to the shop also to see something unique or discover new ideas. Or they want to be inspired and advised. What can shopper marketeers do to ensure that shoppers are stimulated? And how do they keep their attention? What can they learn from the rise of the attention economy?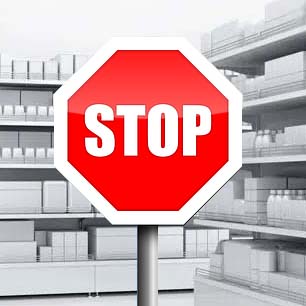 1500 words
#shoppingandtheretailindustry #creativity #advertisingandmarketing

Today's economy increasingly revolves around attention, or how businesses can capture and harvest attention. That is why cognitive scientists are digging into what drives attention. This led to the impressive success of a new industry: the attention economy. It assumes that undivided attention is a scarce commodity.

The shop, the church of the free market, is one of the battlegrounds where advertisers compete for attention. Shopper marketeers are aware that every point of sale is a physical interface with the shopping public. And as shoppers push their trolleys through the aisles, an endless array of choices is up for grabs, along with a wealth of information in many forms.
"When millions of everything [...] appeal for our attention - and most of it is free, it's v aluable to be found", Kevin Kelly, Wired magazine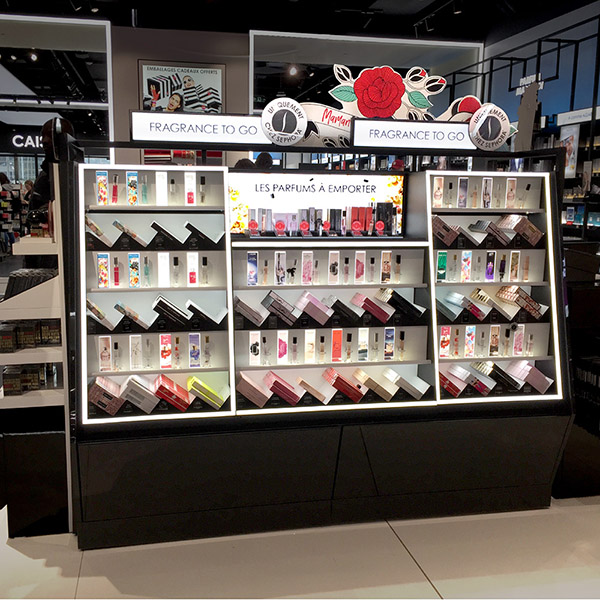 At the moment when consumers are very close to the final stage of their purchase, stores give them free access to advice, inspiration and ideas. Fascinated by experience here and entertainment there, browsing customers pay with attention, the new gold. To make shopping easier, some of us are willing to wait for recommendations. Or, if it's not misleading, we welcome as sponsored content as thoughtful or useful to support informed choices, whether consciously or not.

(Related article > Why do consumers prefer shopper advertising?)

Marketeers are making the most of shoppers' attention to convert them into sales. They carefully plan in-store marketing campaigns according to insights about consumer target groups, that to which they want to pay attention, and how (and where) to motivate them to make purchase decisions or cultivate brand loyalty.

But customers' waking moments are limited. Not information, but involuntary attention is the limiting factor - and a valuable resource to drive sales. How can shopper marketeers win the ongoing race for our attention? We reflect to the shopping environment some findings from the rise of the attention economy.
Before you move on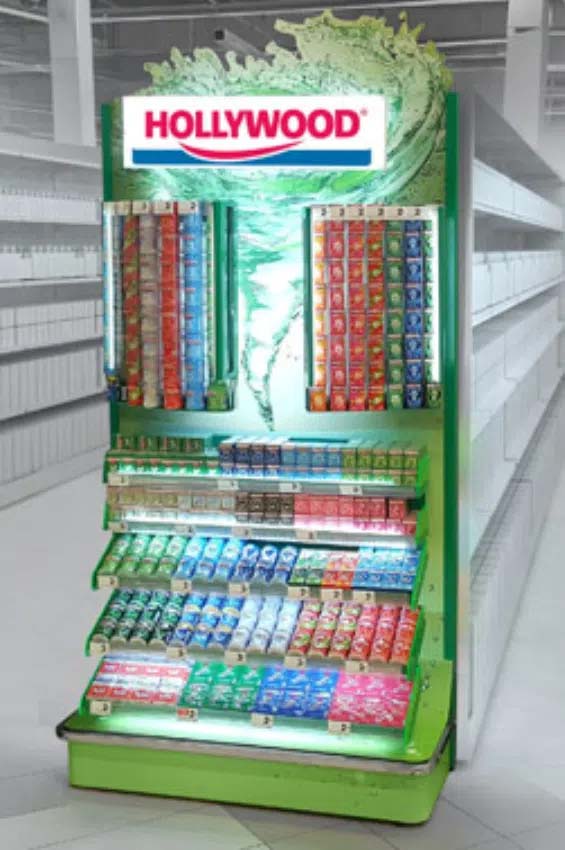 For more than 25 years, we have combined imagination and industrial know-how to help brands and retail present their offerings and strengthen their communication instore. On top of trends, we offer relevant and specific display solutions, always in multi-materials (wood, metal, plastics, etc.) We study a brand's context and its retail challenge, and consider technical, aesthetic, and budgetary constraints for 100% custom-made permanent furniture.
The human adblocker: wilful blindness
While our senses send millions of bits of information to our brains every second, we are daily bombarded with thousands of messages from the advertising industry. Our visual cortex is unable to process this omnipresence; we ignore the vast majority, or we forget the sales pitch within seconds.

And as the superlatives nestle further into our consciousness, our resistance grows. What once fascinated us but has lost its appeal no longer attracts our attention. The endurance of our attention habits cannot be overestimated.
"The only communication that doesn't affect us is the kind you learn to ignore, or not hear at all", Tim Wu, Attention is the New Gold.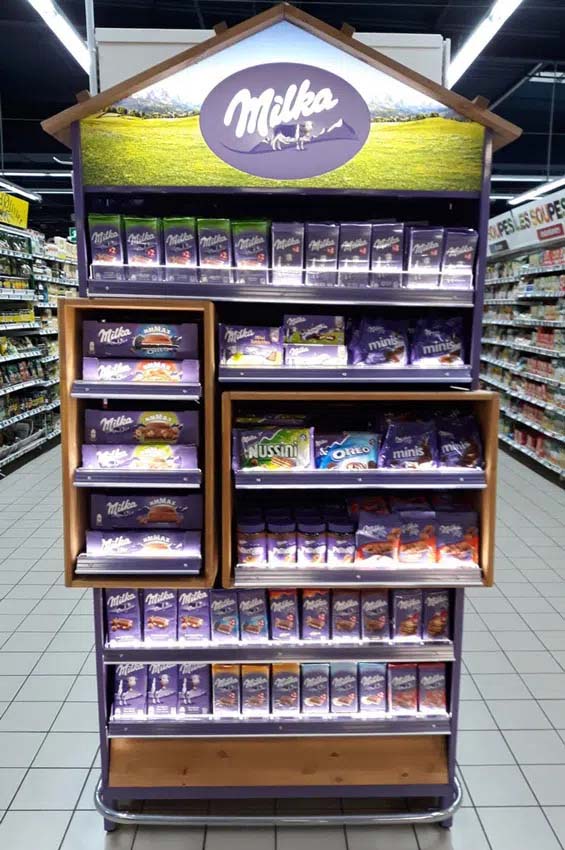 The attention economy has many kings and queens; long before Paris Hilton, context was one of the first to be coronated. Synergy, or finding the relevant times and places, has been always the winning strategy for any form of communication. In one stroke the point of sale can bring in the three trump cards of relevance, without cookies: the right message at the right time to the right audience. Therefore, in-store advertising must be able to appeal to browsing shoppers, whose attention is always focused on the offer.

But instead of seducing, the overwhelming range of colourfully packed consumer goods can razzle-dazzle spectators. They have learned also to look through predictable, one-dimensional, and common in-store techniques, especially when combined with overly branding. With original product recommendations, or convenience, added value, entertainment and above all variety, combined with subtle branding, in-store campaigns should be able to surprise during the shopping experience. Because of their selective focus, customers will tend to prefer the offer that first catches their eye. Therefore, advertisers ask themselves: how quickly can my product be found in shops?
The tough battle for attention is a zero-sum game
Retail businesses value the in-store initiatives of their core partners, the brand manufacturers. Because they are autonomous in use, they make sure visitors repeatedly experience something unpredictable - according to attention economists, variable reinforcement is the most effective way to strengthen behaviour. Or the sponsored materials allow the shop's dynamics to stand out from competitors. With a sense of fierce energy, they disrupt the automatisms of rushing shoppers. Or their attractiveness resets fatigued customers, so that they are alert again. A win-win for retail and brands, who offer their POP materials seemingly for free.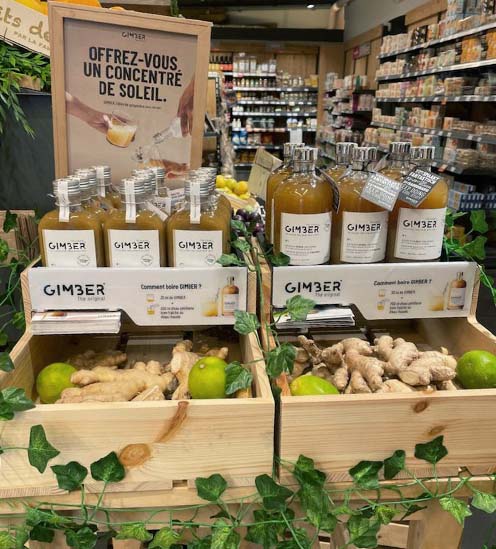 But like the attention of shoppers, the sales space (and surely the attention) of retail partners is limited too. Therefore, pretenders compete with the most appropriate alternatives. This can be done with vivid imagery, contrasting colours, well thought-through copy, identifiable shapes, appealing presentation, use of materials and additional lighting - in short, a clever story staged to appeal to shoppers. That seems complex, but it doesn't have to be; a simple concept without too much ballast can do wonders, as long as it strikes the right chord and it is well executed. And keep it fast, short and direct - whatever it is.

To attract the attention of trade buyers too marketing materials are best developed in synergy with their merchandising priorities (and drive for profits). As we mentioned earlier, the most relevant POP materials blur the distinction between merchandising and advertising.

At the same time, shop directors want to avoid their spaces becoming towers of Babel, where advertisers shout through each other in a cacophonous attempt to reach the most audience. For the sake of balance, only the most relevant projects reach the shops. In return, providers will be allocated extra sales space, along with extra exposure in environments of trust - which translates into higher sales and client loyalty. And when you compare the cost of deploying the POP materials to renting commercial property, the exchange deal is beneficial for advertisers.
In the race for attention, time is money; every second counts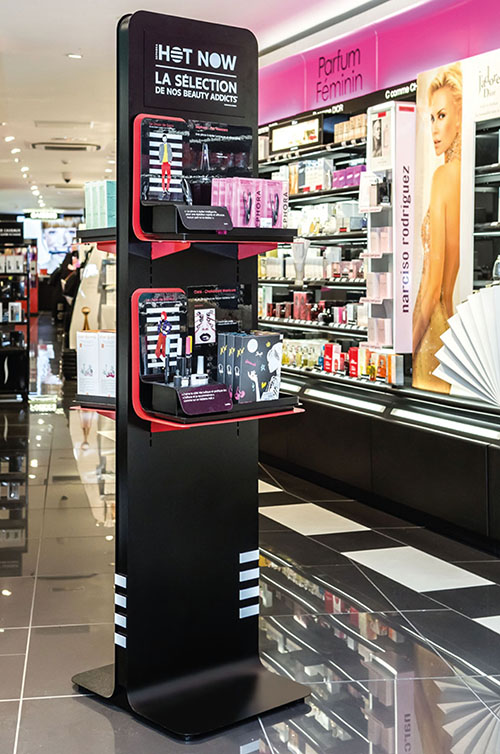 We are constantly engaged in a dialogue with the world that surrounds us. Everything that has a form and to which we pay attention influences us, as if it has something to tell. We see things, we select what we focus on, and act accordingly.

On the shop floor, we grant advertisers only a few seconds to make an impression. Two vectors explain the overall effect of any marketing material: the sum of stopping power and retention rate. A creative idea, regardless of its purpose, is only as good as its ability to break through the clutter and grab our attention. Subsequently, it must hold that attention long enough for us to feel connected and make a purchase on the spot. That seems exaggerated for a quick impulsive indulgence. But as the consequences of a mis-purchase increase, it is hard to deny that something is happening in the nervous system of most of us.

Communication hierarchy and the 10-5-1 formula is an important concept of shopper marketing. The formula determines which message best suits the distance to an offer. At 10 metres, a creative, inviting atmosphere makes curious passers-by linger for a while and build interest in an item, a set, or an assortment. At 5 metres, customers can read and understand an offer, making them willing to further open up. And at 1 metre, the offer convinces as if no other choice remains, but without making customers feel they are giving up freedom. This is the essence of the subtle game of seduction in shops, with POP materials that should be both entertaining and persuasive, and from which customers can always avert their eyes.

Jan. 2023

Your POP materials are your energetic ambassadors that entertain and persuade every shop visitor at the same time. Do you also wish to appear on shoppers' radars? Contact us today, together we will develop the best solution for your brand.