Floorstanding display unit
A floorstanding display is a merchandising material for a larger assortment of articles, inviting consumers to an emotional connection. Presenting articles to consumers in attractive, appealing ways, a striking display elevates articles being featured at the all-important moment of truth. With a customized visual experience, it guarantees maximum attention-grabbing impact.
Our designers and engineers will work from your technical specifics (functionality, lifetime, dimensions and weight of your articles) and design for industrial production in a combination of all durable materials (metals, wood, plastics, glass, …)
In hyper- or supermarkets, in specialized points of sale, freestanding or set up against a wall, using easy-to-access merchandising, layout and communications, consumer can gather trustworthy information about a range to confidently and efficiently weigh their purchase options. Displays can be supplied with all kinds of accessories, such as shelf dividers, brochure, coupon or tester holders, colour charts or samples, etc
Attention grabbing
Creates an outstanding shopping experience, the final piece of the customer value puzzle.
Elevates product awareness
Inspires and communicates product qualities
Easy navigation and decision simplicity
Easy to access merchandise invites for engagement
Product visibility impacts sales
Enhances brand exposure
Ideal for temporary assortments, promotions or innovations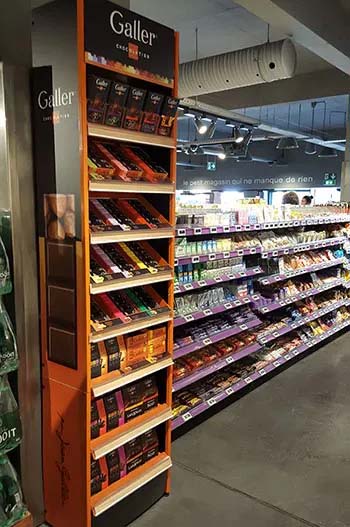 Merchandising display
A merchandising display or stocker is a great way to get your product to stand out in store, the last possible place to influence buyer decisions. Merchandising displays combine visually appealing design with customizable functionality. They can be personalized based on branding, colour, size and quantity of shelves.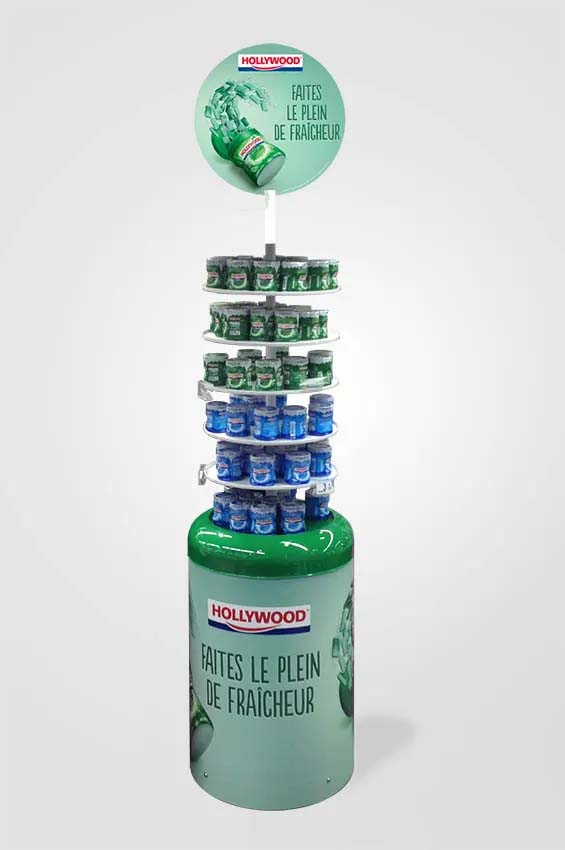 Isle display
An island display is a free-standing presentation of merchandise that is accessible from any direction. These powerful types of displays are situated in the open area of a retail environment.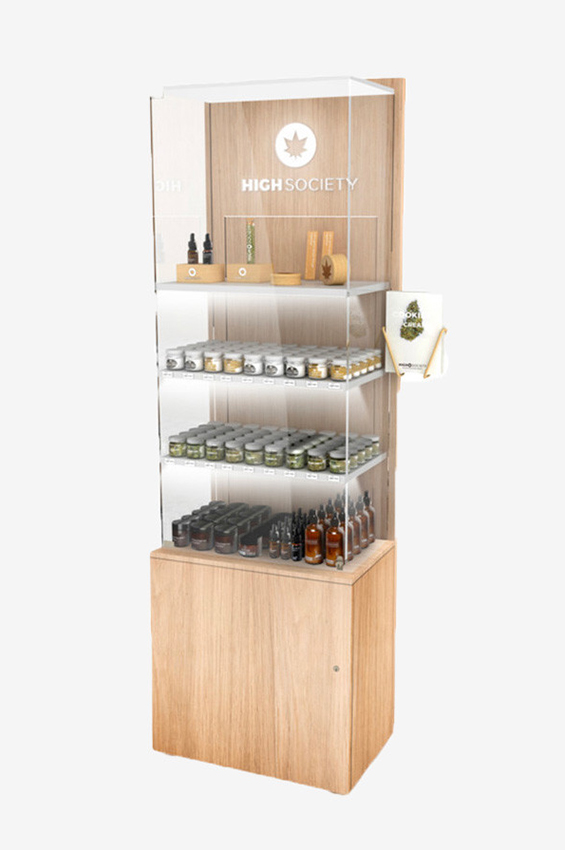 Showcase or cabinet
A cabinet, such as a column, counter or a wall showcase, protects your most valuable articles from direct contact with shoppers. They are used in more luxurious shopping environments or for exclusive ranges.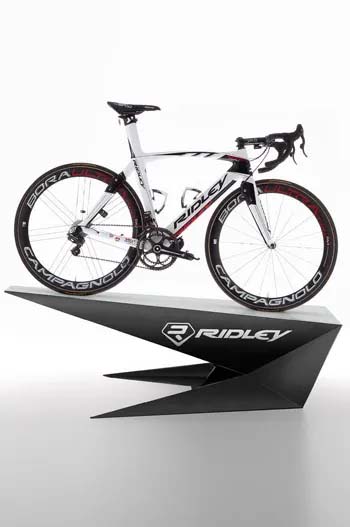 Glorifier or pedestal
Creating a three-dimensional visual experience, a glorifier represents the perfect platform to set your products in scene with almost unlimited possibilities regarding size, shape and material, intended to theatrically bring out the article's qualities or features.
FLOORSTANDS
Pilotes advises, imagines, designs for industrial production and provides complete project management untill roll-out. We team up with you to make and deliver the most suitable floor stand.

Specialists in multi-material fixtures, our engineers propose custom designs in all durable materials (metal, plastic, wood, glass, …)
FEATURES
Modulated, adaptable or mobile

Adapted to the shopping behaviour in your category

Creates a unique visual experience, with price, product and campaign information

Custom design according to your retail strategies and technical specifics

Solutions with superior, customized functionality

Solid construction with one or more shelves

Multi-material in metal, plastic, wood, glass …
ADVANTAGES
Impacts visibility and sales

Inspires and attracts the shoppers' attention

Make your merchandise procurement easy

Enhances brand exposure on shop floors

Stimulates impulse buying

Ideal for promotions and introductions
Get in touch
Contact our POP specialists directly. Every application is different and every project is a new challenge. Our specialists are at your service with advice and experience.
Adresse
PILOTES (Brussels Office)
Cyriel Buyssestraat 11,
1800 Vilvoorde
Your message has been sent. Thank you!