Make your brand stand out in on-trade venues


Bottle glorifier display for liquor and beer



70% of consumers have already decided which category they will drink before they reach the bar, and 80% of these consumers will stick to the same drink for their next order. Best-in-class point-of-sale is influential in steering consumer decision-making, reaching them at the critical moment of choice. POS is an excellent way to elevate your brand above the rest of the selection. That, in a nutshell, is why effective POS matters. In this article we look at some examples and tips for bottle glorifier display for liquor and beer brands.

1 000 words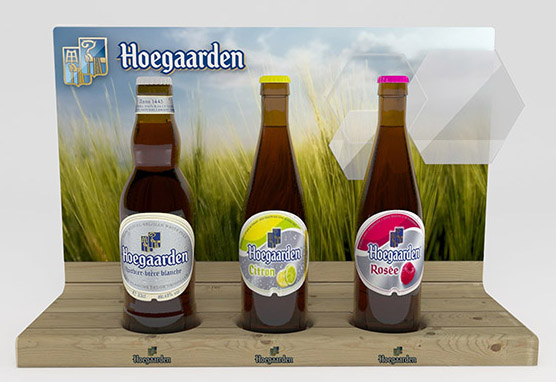 Just as they do for retail stores, distillers and brewers are looking for effective ways to stand out in bars, pubs, restaurants, and hotels. To arouse desire and curiosity, or to reinforce notoriety, custom made display materials can provide cost-effective product advertising to differentiate premium brands and to bring visitors a memorable experience.

How to promote a set of liquor, beers or drinks in hospitality venues? How to create value with uniqueness? Without the presence of an animator, how to educate visitors to care about your brand and love your products? How to create an immersive tasting experience?
Before you move on
Designers and makers of point-of-purchase materials, display, merchandising and commercial furniture to equip shops, team Pilotes is committed to creating 100% custom-made, multi-material solutions, with a focus on environmental and societal benefits.

The bottle glorifier display: a definition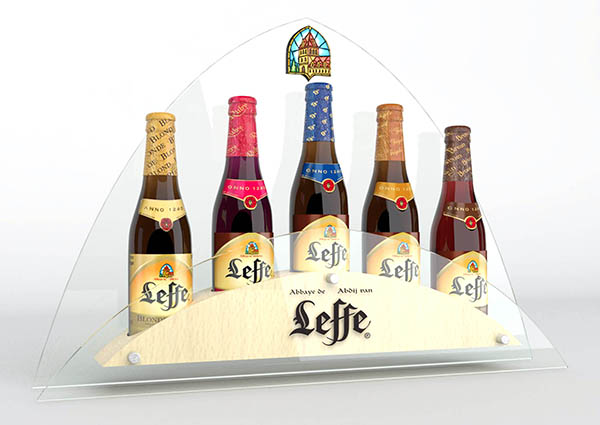 The bottle glorifier display, or a "sommelier display", is an exceptional type of display. It brings together a set on a presentation plinth or pedestal. You can find them on the bar, on a shelf behind the bar or in the windows of liquor specialty stores

Enhancing the visual appeal of your products, glorifiers attract the eyes and ensure your brand stands out from the crowd. They represent the perfect platform to set your products in scene with almost unlimited possibilities regarding shape and material, intended to theatrically bring out the product's qualities or features.

Inviting customers to a journey into new flavours or blends, bottle glorifiers can also valorise your range. By bringing flavours together in one place, they showcase the depth of the brand and entice the desire to taste them all.

Fuelling conversations between connoisseurs, these materials are long-lasting merchandising solutions that go further than an ephemeral promotional tool. Because of their premium finish, these attractive objects are generically appreciated by the hospitality industry. They are happy to display them as a decorative or inspiring element for their establishments, and thus, promoting your brand visibility for many years.
Go one step further and add service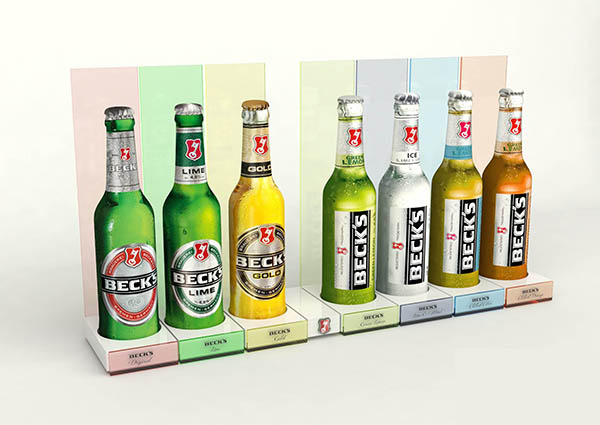 Depending on its setup, the bottle glorifier can provide additional services:

A bottle glorifier for a range can take a proactive role in shaping choice. Line communications can prevent "analysis paralysis" — the feeling a buyer gets when the options are too overwhelming.

Any display offers an opportunity to communicate directly with buyers. By incorporating their unique story, brands send out a salesperson who can show every buyer at the same time how a product should be appreciated. What makes a liquor unique? What is its region of origin, or terroir? How do craft and ingredients relate to flavour? With educational content buyers will experience a higher level of knowledge, craftsmanship and service, and tend to remain loyal to a brand.

The display can incorporate a smart storage space for the educational content.

Consider all scenarios and make it functional. Provide easy-to-hold handles to help transport. Waiters are welcomed with success at the table.

Sunken reliefs adjusted to each bottle secure their position and avoid a display being "pirated".

Accommodate tasting glasses on a drawer or shelf, as we have done on the Aberlour display.

Materials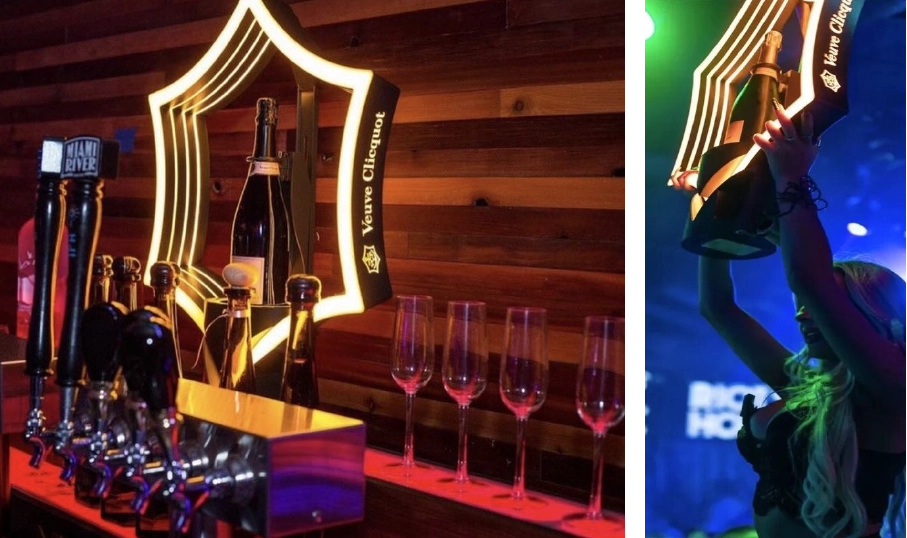 Having a rich brand has become crucial for distillers and brewers to differentiate themselves from competitors. The bottle glorifier should reflect the premium character of the brand. Therefore, the materials used to build display are crucial. Hence, they are made of noble and quality materials to capture the mood and image of the individual drinks being presented.
Solid wood, in light or dark essences depending on the brand's universe
Leather
Metal, brass, copper, or stainless steel, unfinished or brushed
Colorfull acrylics to bring a shiny touch and recall the lacquered aspects
Transparent acrylics to recall the appearance of glass
Uplifting the tasting experience
With the same purpose of providing buyers with a differentiating experience, we have developed these countertop displays. Offering tastings in specialty liquor stores, they represent a vibrant brand theatre, inviting buyers to immerse in its world. They include images and text within the design so that customers can learn more about the brand and each products, craftmanship, ingredients, and terroir.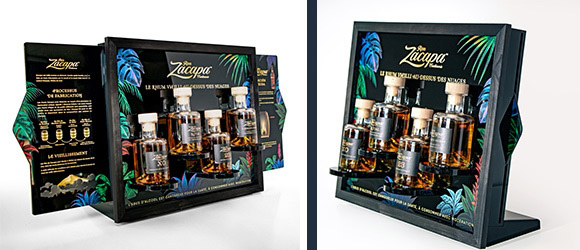 These comprehensive materials allow curious shoppers to appreciate the different flavours in the absence of the master. Placed on a counter, a table, or a top shelf, they are invaluable sales aids for merchants. They too can profit form the information display as they deepen their sales pitch and guide conversations with prospects.



Our team worked with the world's leading beverage brands to increase sales in the on-trade through impactful and effective marketing execution. Reach out today to set up a free consultation. We'll find the best solution for your brand.

Date: april 2022 — bh