Instore marketing for food, beverage & grocery brands:


Visual merchandising in supermarkets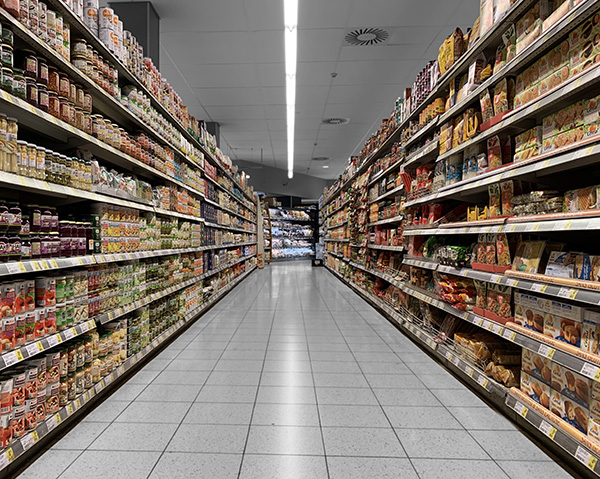 Food, beverage and grocery brands want to sell their offer in grocery stores in the best conditions possible. Marketeers have a diversity of merchandising vehicles available to present articles, sets or assortments, and to seduce visitors. The potential is significant, but how to succeed visual merchandising in supermarkets, hypermarkets, and in convenience stores? Demonstration, tips and tricks with examples.

1 000 words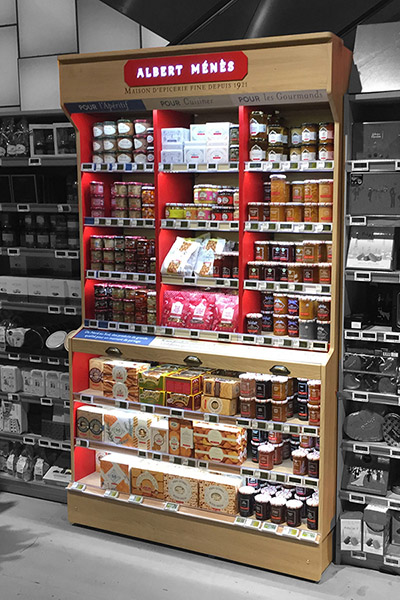 Merchandising materials are often the first point of contact between shoppers and product. They are a must-have for any brand that sell trough physical retail. The manufacturers make and supply them to their retail clients, because the latter are often limited by time.

These marketing initiatives are a win-win for both brands and retail. The point-of-purchase materials make sales spaces dynamic, less predictable. And they generate additional profit, among others through stimulating impulse buying and changing buying behavior towards margin generating products. At the same time, brands are given the opportunities to make their offer stand out. And then the miracle happens: seeing is buying.

Free-standing (or autonomous) merchandising materials can be 100% custom-made. The solutions are divers, as well as the techniques and materials used. At Pilotes, we adapt them to aesthetic constraints of brand and products, as well as to context and marketing objectives.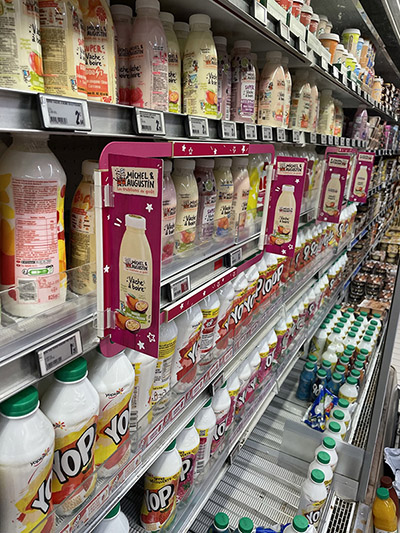 For many years, various players in the food and beverage category have entrusted us with the design and realization of their merchandising and POP solutions. With this valuable experience, we are delighted to be able to share some tips and lessons learned. Before moving on to some examples, let's first look at the marketing objectives that merchandising tactics can drive.
Before you move on
For more than 25 years, we have combined imagination and industrial know-how to help brands and retail present their offerings and strengthen their communication instore. On top of trends, we offer relevant and specific display solutions, always in multi-materials (wood, metal, plastics, etc.) We study a brand's context and its retail challenge, and consider technical, aesthetic, and budgetary constraints for 100% custom-made permanent furniture.
1. The sesame to mass distribution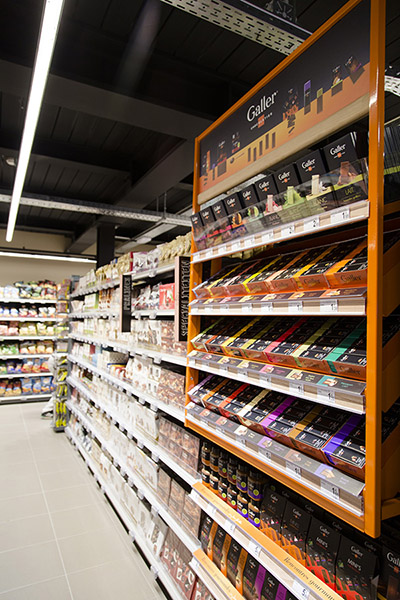 To get a spot on the shelves, a real innovation in term merchandising is a possible strategy. And developing a winning or original merchandising solution starts with a good conversation with retail buyers. By supporting their merchandising priorities, brands get more chances to lure more customers to their offer.
2. The speed bumps that slow down shoppers
To make shoppers stop for a different brand than they are used to, merchandising specialists use noteworthy displays. Because shopper's focus is always on the product, display sets the scene. With shapes, material options and colours, they create a unique visual experience instore.

The display should be large enough to attract attention, but never at the expense of other products. The magical balance between product, branding, materials and graphics is a stiff challenge.
3. Make an offer shoppable
Ensure that the customer can grab the products with confidence. And if the display is in a high-volume store, display makers make sure it will look OK from Monday till Saturday without being constantly replenished.

Related article --> The retail shelf management solutions explained.
4. Attracts prospects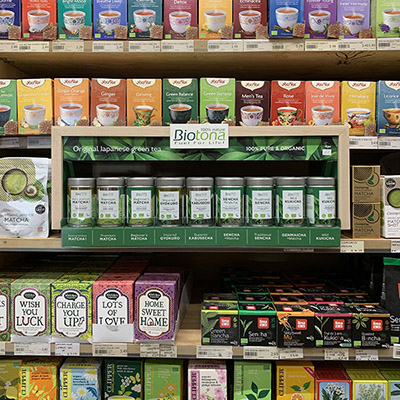 When it comes to getting penetration or gaining new shoppers to buy a product, getting the product into displays, such as floorstands, outside of its normal department is key. Second placement outside the home shelf where a product is normally merchandised helps to attract prospects who have never seen it.
5. Sell more to visitors
To be effective merchandising better meets a number of constraints. Through effective layout customers can be induced to buy more, for example:
make it easier for shop visitors to find what they are looking for
improve the readability of the shelves
highlight novelties and products with higher margins
encourage impulse buying
guide confidence and choice in a self-service context
when dealing with dynamic consumer taste, rather than altering products, sometimes brands just can get creative in their display tactics
Although there is no one-size-fits-all solution, there is one common principle: merchandising is directly linked to profitability. The direct and indirect potential of merchandising is important. It presents the offer in the best possible conditions and increases the stopping power of products.

This practical on-shelf case for CASSEGRAIN comes with the promise to increase sales for its new range of exquisite spreads. It creates a dedicated space for the brand, remarkable product visibility and maximum impact.

Shop-in-shops are the most prominent merchandising materials. They add value to assortments, energise shelves, facilitate organisation and merchandising layouts in supermarkets.

A shelf stopper is the ultimate tool for extra visibility on shelves. It attracts the attention of passers-by, communicates a novelty or an activation, segments the offer and contributes to the attractiveness on the shop shelf.

These modular and dynamic shelf-on-shelves frame MICHEL & AUGUSTIN's products in the fresh and grocery department of supermarkets.

To ensure the success of a merchandising effort, it must meet a few criteria. First, it must be adapted to context and the location in stores. Then, the solution must correspond to the products on display. Not all solutions are suitable for all types of stores, category or product. Choosing the right location for a display is essential, together with the right technique according to the products and the margins they generate.

June 2022
---
Do you wish to develop merchandising and sales for your food or beverage brand in grocery stores? Reach out today to set up a free consultation. We'll find the best solution for your brand.