Cross-selling in self-serve stores:


Stimulate sales with

cross-merchandising display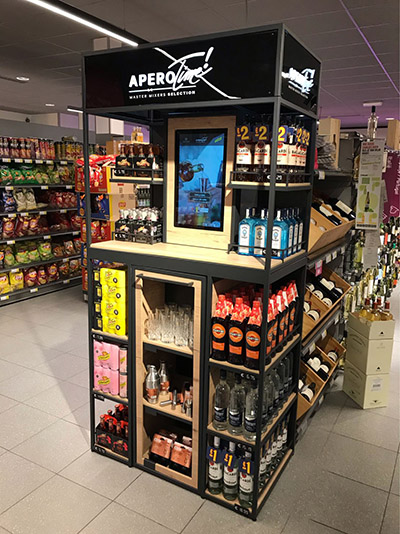 All store managers want to find ways to grow revenues, or diversify. Cross-selling (add-on or suggestive selling), or any strategy to stimulate shoppers to also buy from a different category, create opportunities for retailers to get the most out of all store visits.

But it remains a tough challenge: customers don't always appreciate aggressive sales techniques. Some feel overborne when pushed. Merchandising tactics and display materials are instore solutions that can increase visitor baskets. They seduce without imposing. That display for barbecue sauce in the meat section didn't get there by accident. Cross-merchandising display materials are particularly powerful in self-serve stores, such as grocery, convenience or specialty stores, because these don't have sales representatives available to suggest buying opportunities.

Let's get academic first and define cross-selling.
Before you move on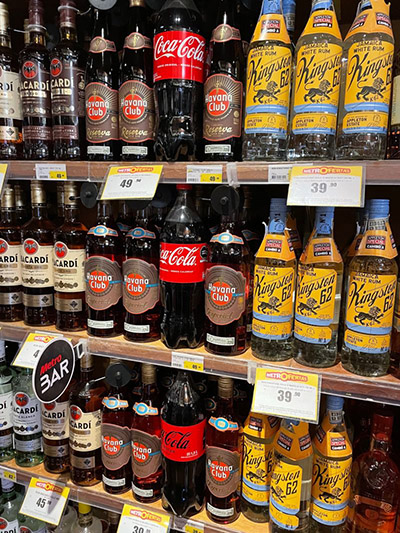 Combining imagination and industrial knowhow, PILOTES creates and makes customized, permanent, and multi-material point-of-purchase solutions and furniture. We specialize in meeting the unique in-store and merchandising opportunities and challenges faced by brand manufacturers and retail companies. Our goal is to promote visibility, attractiveness, and sales by effectively and simply subliming product offerings. At the same time, PILOTES offers strong ecological and societal benefits.
What is cross-selling? (definition and examples)
Cross-selling involves all initiatives that encourage customers to buy related or complementary items that they may find useful. The recommended items are relevant to the one that is being bought. Logical pairing happens in every shop at almost every visit. Customers are not always aware of it.

Examples of cross-selling include: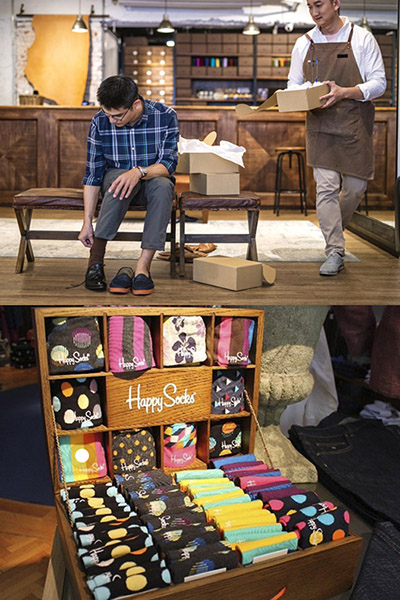 A sales associate at a footwear retailer suggests: "May I recommend a relevant product to clean your new sneakers?"
On her television shows, Oprah Winfrey promotes books, magazines and website.
At the end of an airlines purchase, consumers are offered a tick-box option to buy travel insurance.
Sellers of household appliances offer extended warranties.
Online shops collect information to put them into the perfect "customers also bought" or "frequently bought together"-position. Amazon attributes as much as 35% of its sales to cross-selling.
A mobile phone retailer suggests that a customer considers a new case for his or her new phone.
A fashion retailer bundles a complete outfit, so the shopper sees how pieces fit together. Disruptively placed display materials remind visitors of latent needs for apparel and accessories.
Cross-selling is often confused with impulse buying. Cross-selling involves recommending a related item to the customer, which may lead to an impulse purchase — a spontaneous decision to buy that occurs after the customer has entered the store and becomes captivated by the merchandise. As you can see, these behaviours can often overlap or blend.
Cross-selling in self-serve stores: quick and convenient access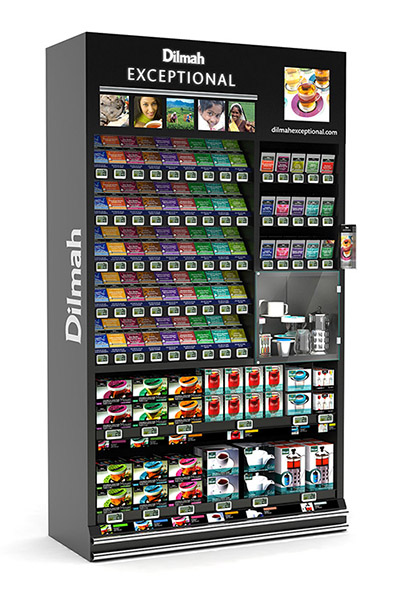 Self-serve stores lay out the offering on shelves. Shoppers rush through the aisles, put what they want in their baskets and check out before to bag their purchased items. There's no shop associate to follow them, nor to give advice.

In these commercial environments, product placement is essential. Storage systems, such as linear shelving units, are used to display and stock the merchandise.

The No 1 priority is to make it easier for shoppers to find what they need. Therefore, these fixed fixtures are used to organize the store in aisles, a clear and obvious layout of sections, departments and categories, such as food & beverage, health & beauty, household goods, supplies, etc.
What is cross-merchandising? (definition and examples)
Cross-merchandising (cross-promotion, cross-category or joint merchandising) is the practice of displaying complementary products from different categories together, in order to generate additional revenue. The goal is to provide quick and convenient access to products consumed together. Or it suggests to customers an additional item that "goes well with" their primary item — "products that work well together". By offering connected products, this practice can entice customers to purchase more.
"Consumers want to see products together that they would consume together", Michael Tilley, associate director of Shopper Marketing at Mondelez (source)

Examples of cross-merchandising for products that are typically used together:


Some tips for effective cross-merchandising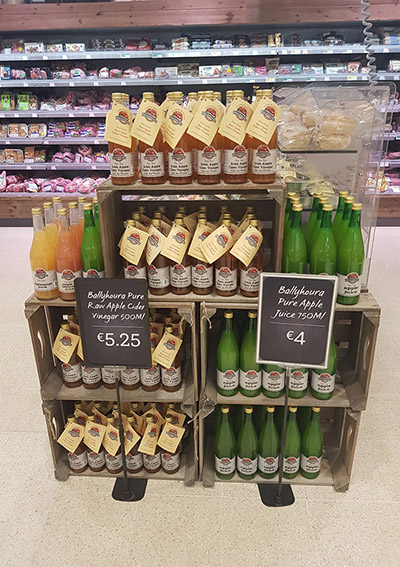 Brands love cross-merchandising, based on the simple idea that having more product placements throughout a store increases the chances of making a sale. However, retailers often approach cross-merchandising more cautiously due to potential issues it may bring, such as an increased risk of running out of stock on those 2nd placements.

If managed correctly, cross-merchandising can bring significant value to both parties involved. Let's take a closer look at these benefits.
Trigger a shopping need within the store
This involves helping visitors realize they need another product to go along with their purchase. Lemons merchandised near seafood, batteries for toys, a corkscrew for wine, an oyster knife with oysters are the most obvious examples.

But emotions can also trigger a shopping need, there and then in the store: biscuits with coffee, fabric softener with detergent, feeding bottles with baby milk, a special beer to tast with a fresh meal, greeting cards next to the flowers or cookbooks at a tasting stand … The more a connected product can enhance the consumption occasion, the more likely it will inspire impulse buying.
Increase convenience, save time and reduce frustration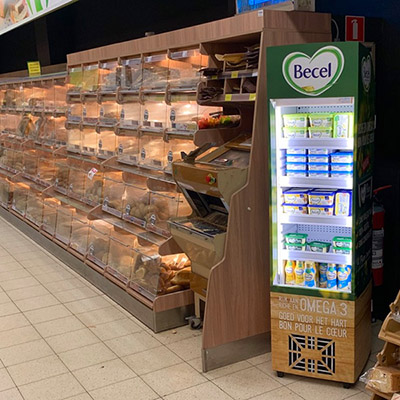 By placing together everything shoppers need for a particular shopping mission, retailers can save them time, increase convenience and reduce frustration. For example, supermarkets in business districts can set up a deli shop-in-shop with a selection of everything one would desire for lunch: sandwiches, salads, sushi, soft drinks, water, kombucha, fruit, chips, desert, a token for coffee after lunch, a fast checkout lane and a sitting corner that suits the lifestyle of local visitors.
Inspire
Cross-merchandising works best when it adds value to the shopper. Most of the times they are in a hurry ticking their (mental) shopping list and mission. Sometimes they don't know what they are looking for. If during a shopping trip inspiration is lacking, cross-merchandising can fill the gap, selling an inspiring solution to a consumption need instead of a product. For example, pre-measured ingredients for recipes can be placed together in a delicious setting, ready to be picked up by home cooks.
Create excitement around one-off occasions, holidays or projects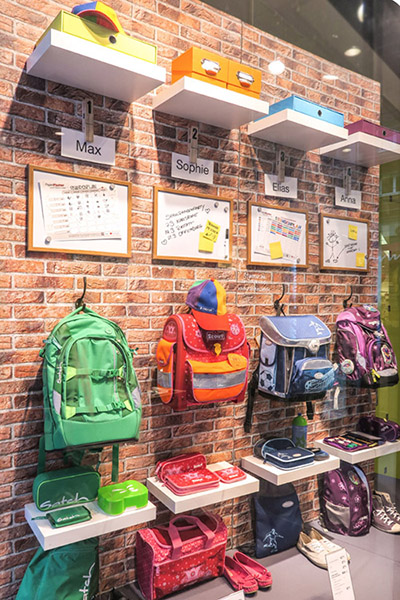 Christmas, Valentine's Day, back to school, springtime, perfect weather for BBQ, an exciting football match approaching; these occasions provide opportunities for retailers to draw attention to seasonal or limited-time items. By strategically placing these products in unexpected locations, retailers generate awareness. The best animations infuse the store with life, creating an atmosphere that is vibrant and dynamic.
Introducing a new product or solution
Cross-merchandising and 2nd placement can make a product or brand really stand out at the critical moment of its introduction. Brands can introduce shoppers to a popular or hot product by placing it in unexpected, prominent or high-traffic places around the store, where shoppers will find them while looking at other products. Or they can communicate the usefulness of its solution by making it visible next to a connected or substitute product, or section.
Key takeaway
Cross-merchandising works best when it aligns with a shopper's mission or triggers an immediate shopping need within the store. Its effectiveness lies in delivering value to the shopper, either directly through time-saving and reduced frustration, or indirectly by creating an enhanced consumption occasion.

Date: June 2023 — bh
---
Do you wish to stimulate sales for your brand with cross-merchandising tactics? Reach out today to set up a free consultation. We'll find the best solution for your brand.