Front-end checkout displays

drive impulse buying


What are the types? + examples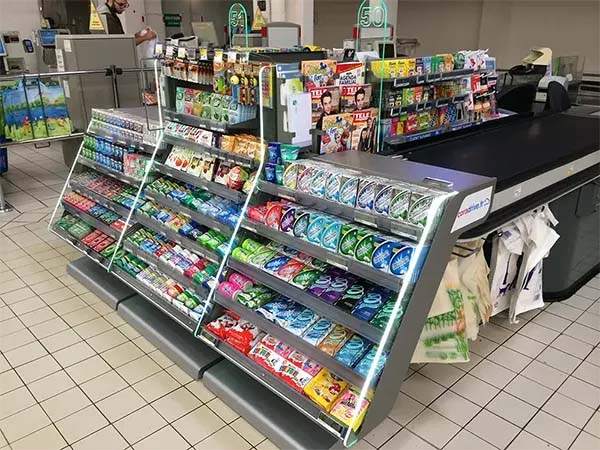 Customers do not want to wait at the checkout. You al­ready knew that. The fee­ling of be­ing cap­ti­va­ted is always over­es­ti­ma­ted. Clients per­ceive it as not just a little ner­ving but ir­ri­ta­ting. And then there's the wor­ry of dea­ling with the fi­nan­ces.

The busy queue area is one of the more tac­tical for any store. Because humans re­mem­ber bet­ter the end of any ex­pe­rien­ce, re­tail pays a lot of at­ten­tion to friend­ly inter­action and a smooth scen­ario, also with regard to per­cep­tion, mer­chan­dise and display. It is meant to dis­tract waiting vi­si­tors, not to pro­vide the opportunity to compare brands, products and prices.

By the time a shopper arrives at the checkout counter the number of choices about what to buy (and what not to buy) has drained his self-control. Then he typically has a general feeling of relief: he has finalized his shopping. Shoppers can be stood for several minutes, waiting to pay. Because he may make a last spontaneous purchase, tempting titbits that rarely make it into the grocery list are set up here in an "aisle of temptation", as we heard it referred to once — a display of small, affordable items, such as chewing gum, mint, chocolate, pocket confectionery, magazines and soft drinks spark an immediate need and desire for fulfilment when clients see them, even if they weren't looking for them.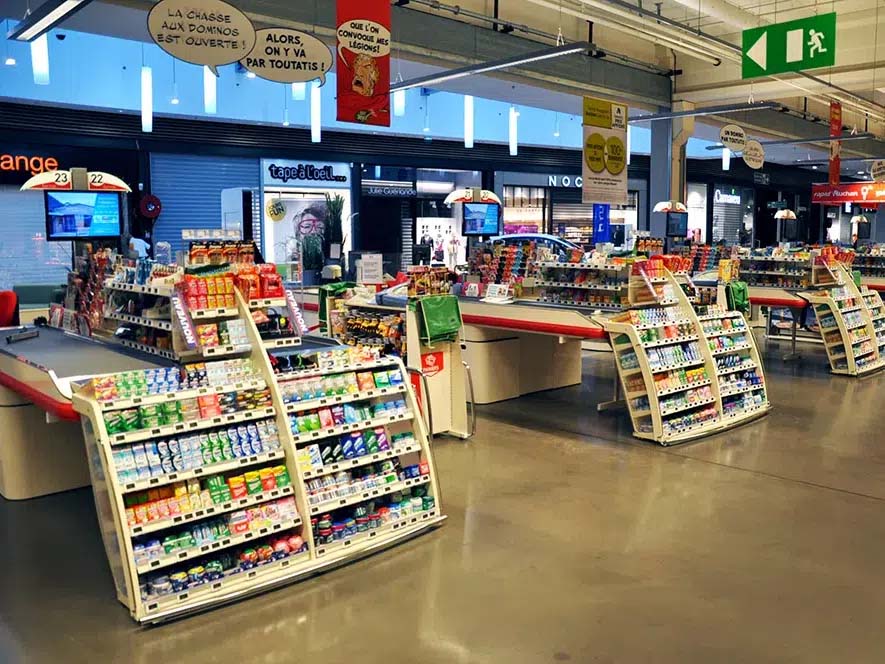 Or the merchandise 'reminds' shoppers of items they may have forgotten to pick up from the main aisles, such as batteries, lighters, lip stick, hand sanitizer, facial masks, phone/gift cards.

Retailers care a lot about the merchandise in this high-traffic area, where shoppers are inclined to compromise and buy items that are compatible with their lifestyles. Each format (supermarket, hypermarket, convenience or specialist stores) develops its own category-based assortment.
Before you move on
Combining imagination and industrial knowhow, team PILOTES creates and makes customized, permanent, and multi-material point-of-purchase solutions and furniture. We work closely with brand manufacturers and retailers and align 100% with their unique instore and merchandising projects.

We are dedicated to innovative and functional design that influences the situations surrounding the act of buying. Our goal is to enhance the visibility and appeal of product offerings with simple, relevant, and effective display.

We're proud to be a family-owned business with a strong commitment to ecological and societal values.

What is a front-end checkout display ?
A front-end checkout display is a type of shelf display that is placed in front of the checkout counter, the most important of the fixtures in a store. The checkout front display must distract, catch the attention of waiting consumers and give them the opportunity to open their minds for impulse or latent items to purchase. That is the main advantage of a well-designed checkout display. They require specific design and layout for a number of reasons:
the diversity of the range
its ongoing expansion (need for more capacity in the waiting line within the limited surface)
the need to adapt to changing buying behavior
changes in store layout, waiting line organization, checkout systems, …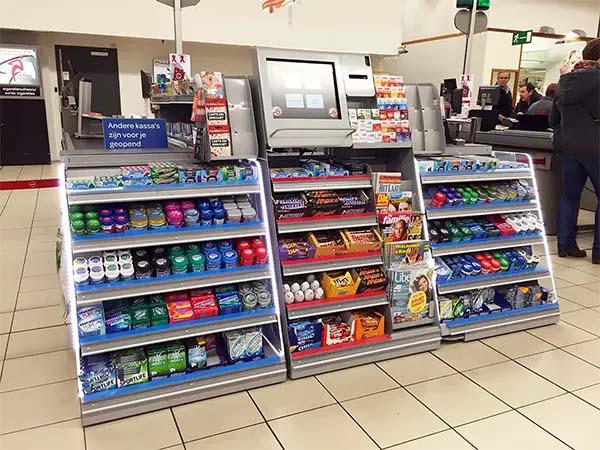 Retailers set high expectations for these 100% made-to-measure shelving solutions:
visibility
perception of quality
ergonomics
functionality
space efficiency
shelf management for a diverse assortment of smaller (unstable) items that need neat well-organized presentation all-of-the-time.
Only then they can meet their ultimate objectives: drive up-selling, facilitate store operations, comfort and safety for visitors and staff, etc. It is also important that the configurations can be adapted to all shop layouts and counter types.
Case study: Auchan/Mondelēz


The consumer goods magazine LSA recently published an article on Pilotes' front-end checkout display concept for hypermarket brand Auchan in collaboration with Mondelēz International. The goal for the retailer was to improve the performance for the entire category, and for the manufacturer to develop the market share for chewing gum.

According to Frédéric Archambault, head of impulse and perfect store at Mondelez: "First we worked together to define the assortment and its layout. Some counters featured products that did not fit. Our conversations then focused on optimizing display and attractiveness. At last, we coordinated operations to install 100% of the counters."

RESULTS
+ 15% sales for the checkout category (compared to stores that were not equipped)
+ 3.5% sales for chewing gum at Auchan, while national sales were 4% down

What are the key strengths for this checkout display?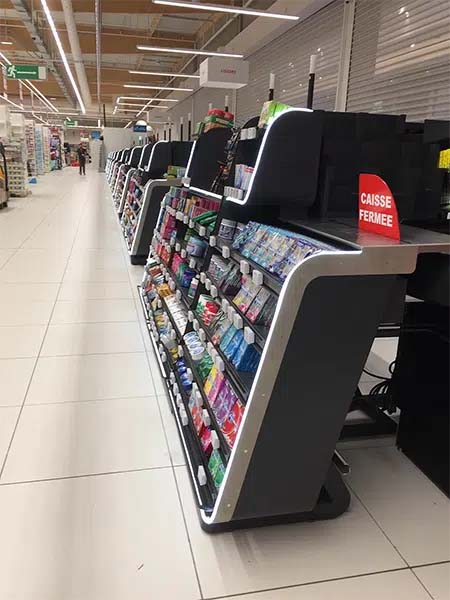 a per­ception of quality design with rounded shapes
a modern and dynamic look
LED light increases the attractivity of the offer
a comprehensible layout for the entire category
the shelves are perfectly adapted to the physiognomy, stock and rotation of the items on display
quality finish & robustness
integration to all types of conveyor belts for the retailer
A few figures for this operation:
120 hypermarkets equipped in 9 months
4.000 conveyor belts equipped
An average of 3 truck loads per hypermarket
Almost 10,000 pallets send out!


To complete this article, we mention the specific solutions we develop to equip counters:
Front-end unit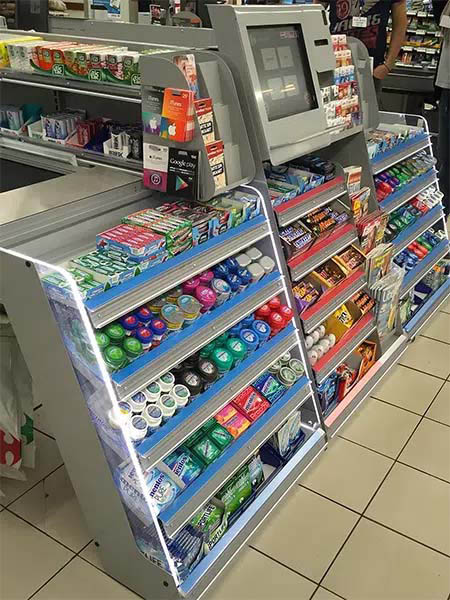 This is the main shel­ving unit with the highest visibility. Chewing gum is the most common item on display. It is positioned in front of the con­veyor belt. Pilotes maximizes shelf space with gravity shelves to increase product performance.
Easy-door unit
Pilotes developed a patented door to bridge the gap between two front units. Ergonomic and easy to handle, it creates extra shelving in front of the checkout counter. To increase it's attractiveness, we integrate extra-visibility shelfs.
Side unit
The space along the conveyor belt is a hot zone for impulse buys from a diverse assortment. Pilotes integrates adapted display solutions according to the offer (gift cards, magazines, pocket confectionery, batteries, lighters, lip stick, facial masks, hand sanitizer etc.).
Single-line unit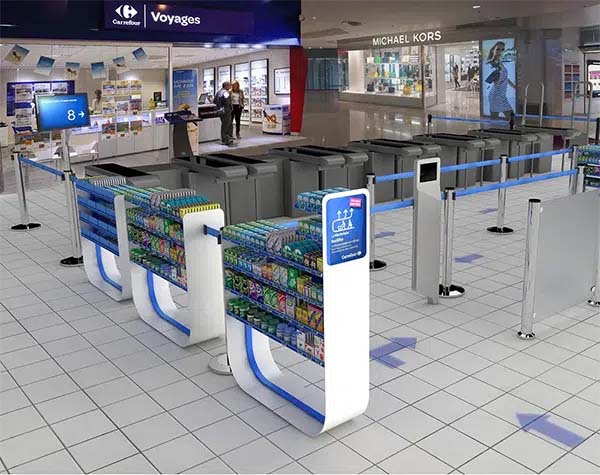 Pilotes develops display solutions to organize single waiting-line models. These display units present the offer throughout the waiting time. The shelving units can be single our double-sided to optimize floor space and maximize product performance.
Self-checkout unit
These space-efficient units create shelving in the self-checkout area. We have developed units that combine product presentation and service functions.
3-sided gondola
These larger freestanding shelving units occupy the space between two counters to distract customers waiting in line with a larger offer, food and non-food.

Date: Jan 2021 — bh
---
Pilotes develops 100% made-to-measure shelving solutions adapted to your assortment and store layout. Our specialist designers and engineers ensure a smooth development and installation. Reach out today to set up a free consultation. We will find the best solution for you.