Candy display & shelving to make your mouth water
Nothing hits our taste buds better than a colourful candy display on the counter of a bakery or a candy rack in the aisles of a supermarket, right? Let's look at the instore options for the confectionery, candy, and gum category. Inspiration, tips, and examples.

1100 words — bh
#marketing #branding #merchandising #pop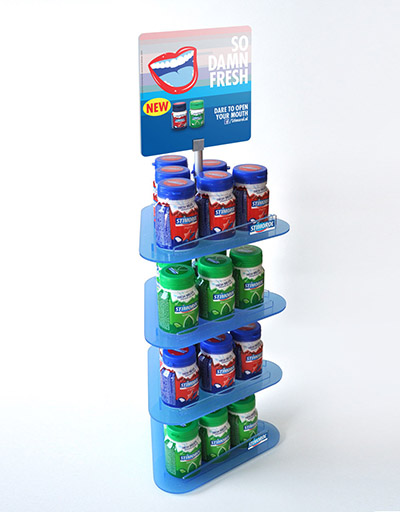 Our creative specialists worked on scores of display projects for confectionery brands, as always 100% tailor-made in multi-material. Over the years, we became fond of the most colourful lollipops, fresh jawbreakers, and sour bombs. That's how we acquired expertise in the presentation of fine confectionery. We gladly took the little extra weight.
Before you move on
Combining imagination and industrial knowhow, team PILOTES creates and makes customized, permanent, and multi-material point-of-purchase solutions and furniture. We work closely with brand manufacturers and retailers and align 100% with their unique instore and merchandising projects.

We are dedicated to innovative and functional design that influences the situations surrounding the act of buying. Our goal is to enhance the visibility and appeal of product offerings with simple, relevant, and effective display.

We're proud to be a family-owned business with a strong commitment to ecological and societal values.
1. Bulk candy display
On the countertop of a convenience store, bakery or snack bar, a bulk candy display is the most suitable presentation material for small or irregularly shaped candies. The best countertop display is a three-dimensional product advertisement.

They consist of modular containers with customised shapes. Because they are transparent, buyers can see at a single glance which sweets are inside. They are closed on one side and open on the other. This gives the shopkeeper a choice: self-service or away from children's hands.

We developed several bulk candy displays for the Carambar and Malabar ranges, unique displays that perfectly match the brand's fun look and feel.

The modular bins made of injected plexiglass are strong and therefore long-lasting: according to the desired configuration, they are stacked and placed side by side.

Over time, we have added additional accessories, such as playful characters, lollipop holders, colourful top cards, etc.
2. Countertop display
An attractive countertop display unit, 100% aligned with brand and products on display, is the ideal material for presentation of packaged sweets or chewing gum. They are used in various sales channels, such as a newspaper shop, petrol station, bakery, convenience store, etc.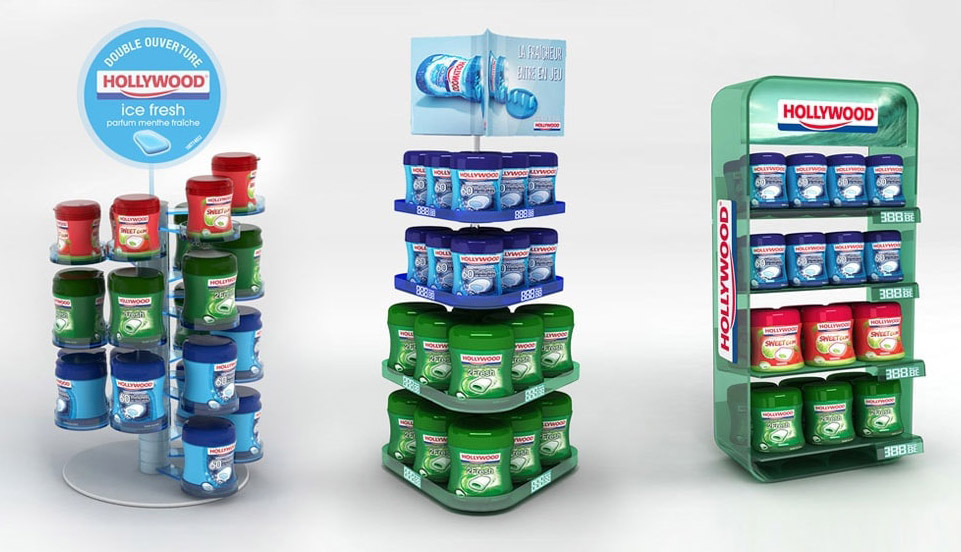 With the right look, a countertop display encourages shoppers to make a quick impulse purchase near the checkout, the top location to present a product, set or assortment.

Read more > The countertop display: the most direct product advertisement
3. Floor-standing display
Presenting a product outside its home base on the shelves of supermarkets and hypermarkets is the best way to improve market penetration. A floor-standing fixture with custom design is a powerful merchandising tool to stand out, gain market share and bring snacks to the attention of shop visitors who do not know them.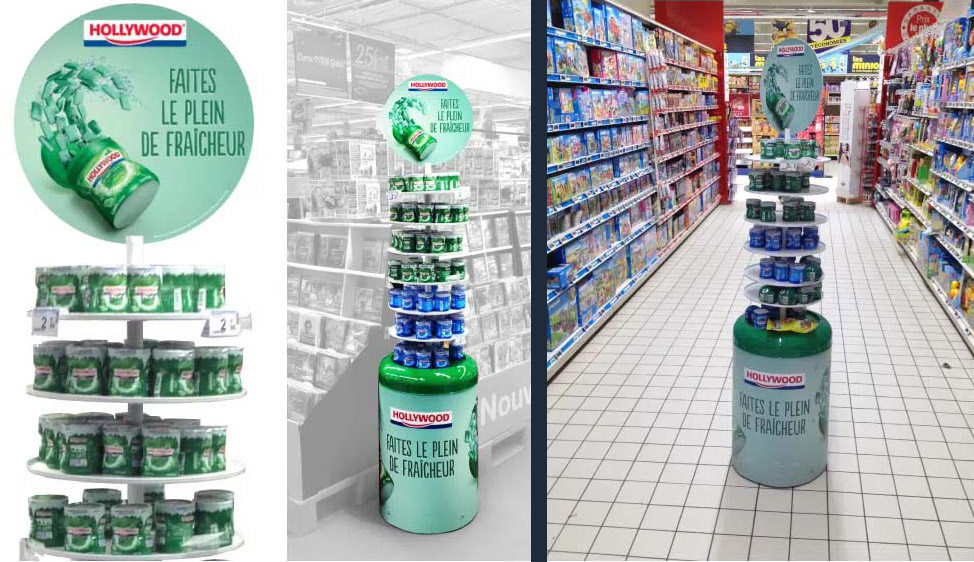 A floor stand for confectionery is best compact so that it can be placed just about anywhere in the shop, preferably in the busiest zones, near the checkout area, against a wall, on the wing of a gondola head, etc. They make full use of retail spaces, and they make the shop look dynamic, less predictable. That is why retail appreciates these practical sales materials.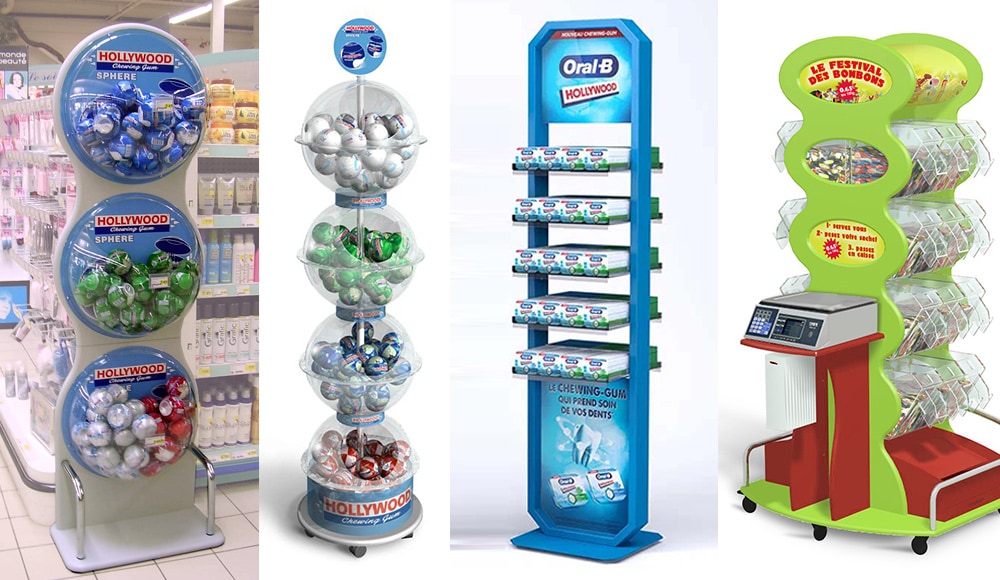 Sometimes they are equipped with casters. This allows shopkeepers to move them according to the available space on the shopfloor. Depending on the assortment being displayed, they are provided with shelves, bins, or hooks.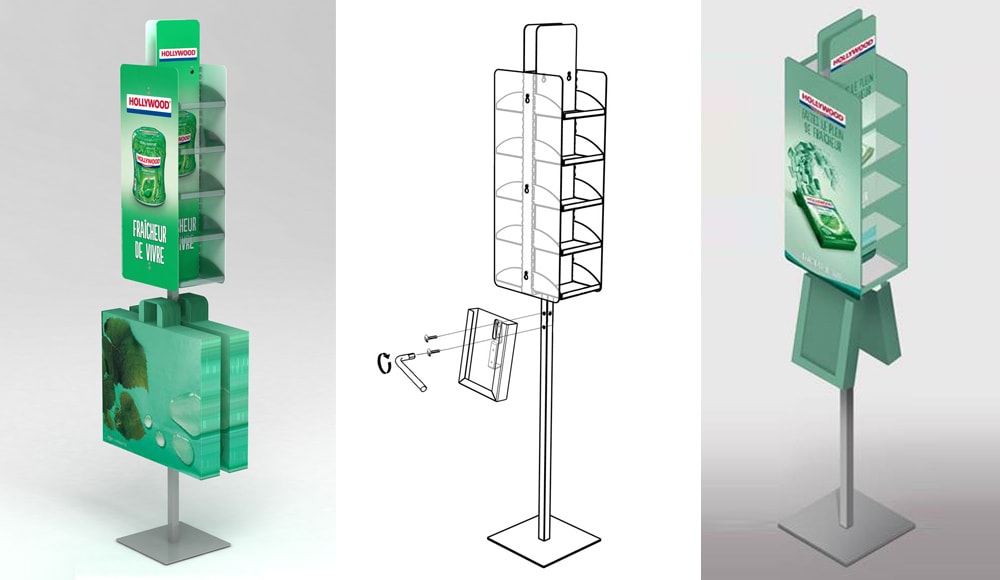 Sometimes a unit can conquer a permanent place in the busy checkout zone because they add extra service, such as holders for shopping bags or catalogues.

Read more > Why a floor-standing display unit should be a part of any marketing collateral?
4. End cap shelving
In convenience stores, supermarkets or hypermarkets, an end cap on the so-called fast track, the busy main aisle, is the privileged sales area to bring products such as sweets and chewing gum to the attention of shoppers. Retail requires a bit more creativity to make them engage.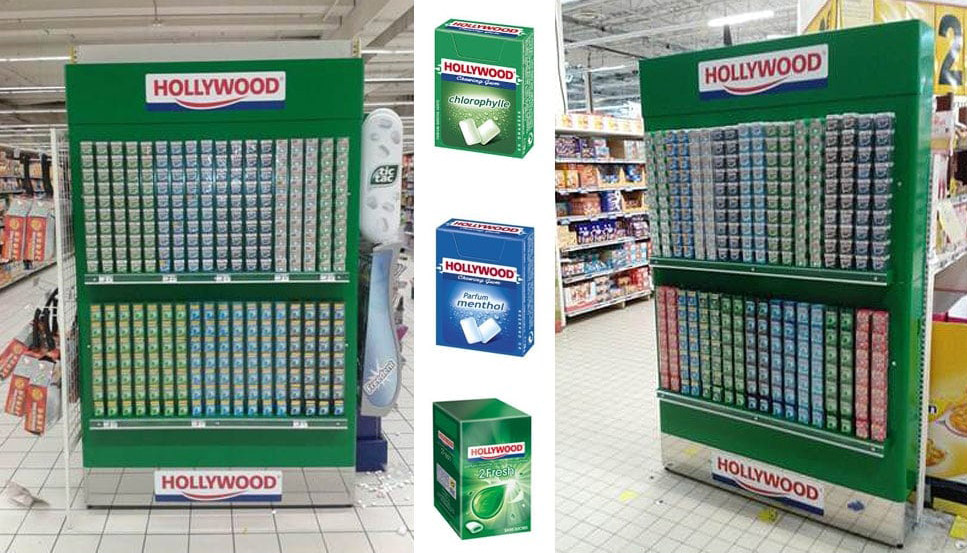 For Hollywood chewing gum, we created this end cap with an eye-catching product presentation, without shelves. Shop visitors would have a hard time overlooking this colourful wall of abundance and intense freshness, after all, the goal of any instore communication. This unit is super slim, so it fits perfectly in front of the cash register.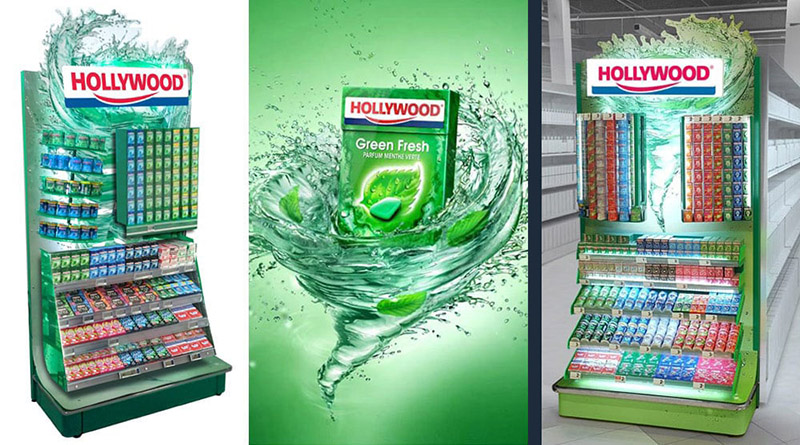 We have baptised this end cap the "tornado of freshness", anything but a standard rack. It is a real showcase for the brand's bestsellers and novelties, dynamically displayed on different types on shelves. The addition of ambient and LED lighting directed at the products helps to boost attractiveness and product sales.
5. Candy rack
A customized rack, also called a linear shop-in-shop, is the most prominent merchandising material in the aisles of supermarkets. They combine functional and creative presentation solutions.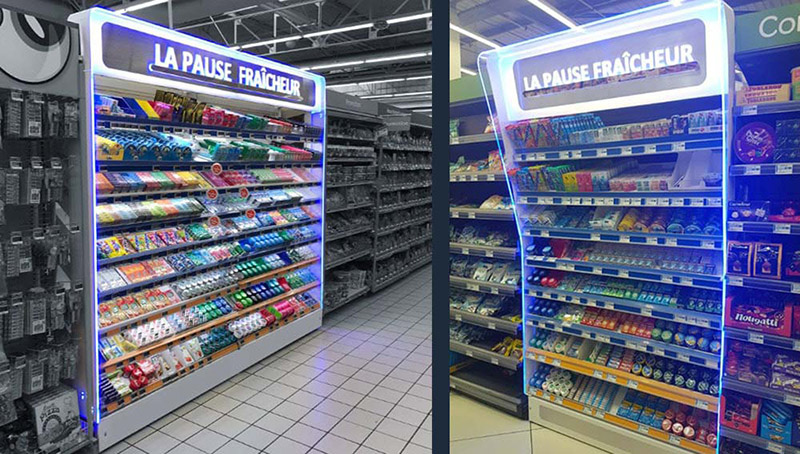 This rack is dedicated to the full assortment of chewing gum. The freestanding fixture replaces a standard rack for optimal product presentation and layout. Maximum filling with a nicely arranged range and maximum product visibility contribute to higher sales, as customers like to make their choice from a wide but neatly organized range.

LED lighting creates a bright eye-catching atmosphere and delimits the sales area. LED strips directed at the products provide additional attractiveness.
6. Front-end display
A front-end or checkout display is a type of shelved display that is placed in front of the busy checkout zone, one of the most important fixtures in any store. It looks and sells great, and especially when lit with LED. It must be able to distract waiting clients, catch their attention and give them the opportunity to open their minds for a last impulse or indulgent purchase.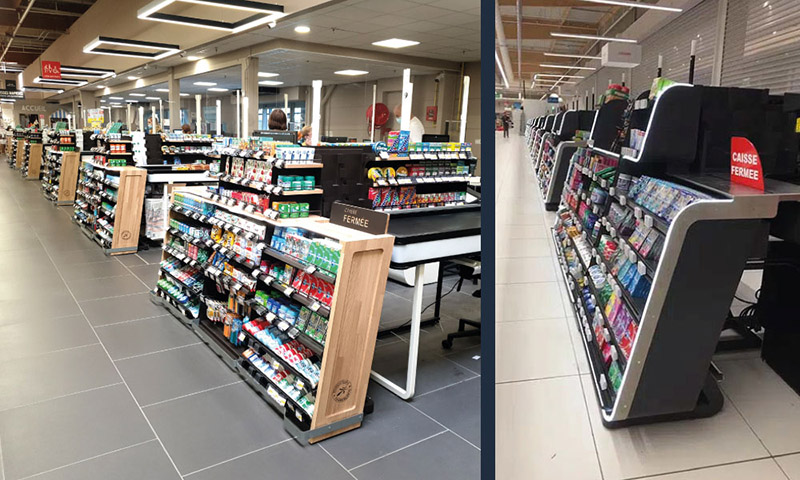 Retailers set high expectations for these 100% made-to-measure shelving solutions for the snack assortment. They are made of welded steel to stand up to the rigors of commercial use.

Read more > Checkout front displays create impulse buying
7. Shelf hanger
How do you quickly create extra shelf space in supermarkets? A shelf hanger is the answer to this challenge.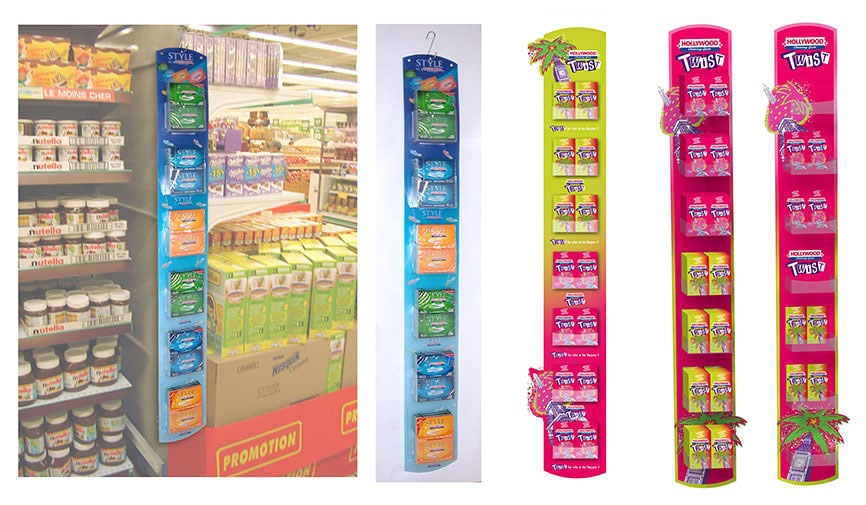 This simple material is particularly effective. To offer bestsellers or novelties to strolling shoppers, it can be hung just about anywhere on shop shelves.
8. Sidekick display
Sidekick displays, or power wings, are larger than shelf hangers, and therefore also have a larger capacity. The latter can be important because of the rotation of the products on display.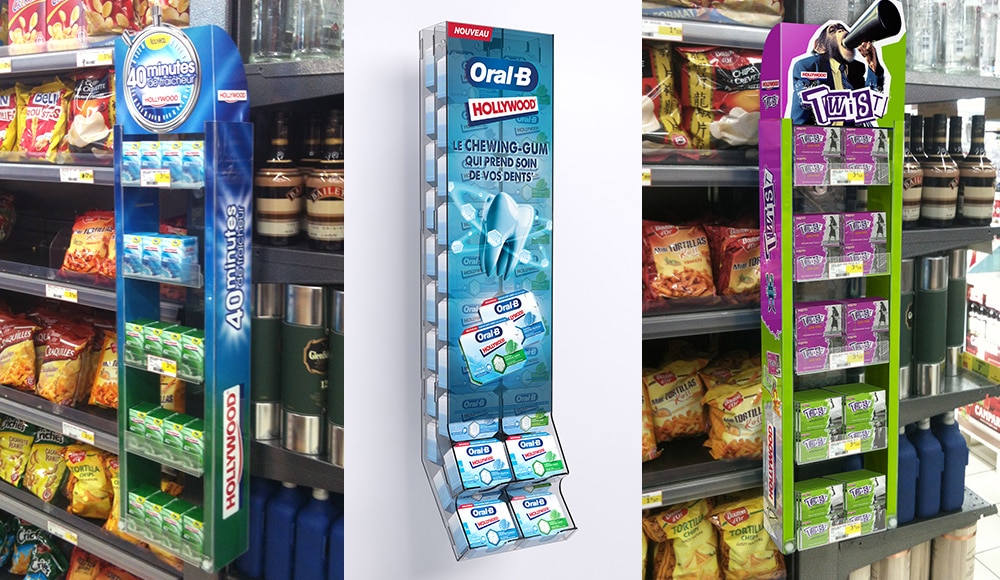 Sidekick displays, while remaining compact and slim, are secured to shop shelves with hooks, brackets, or rubber magnets.

Sept 2022 — bh
---
Do you also want to stand out in stores with a candy display? We would be happy to help. Feel free to contact us for more information or a consultation. Together, we will develop the best solution for your brand.