Zero waste grocery shopping goes mainstream:


Brands test the choice for bulk


Until now, specialty shops have been the place to go for packaging-free groceries. Because of their growing popularity, but also because of new legislation and voluntary engagements, mainstream chains want to offer more unpackaged choice. Therefore, large A-brand manufacturers are taking an interest in zero waste distribution. Let's look at some 'bulk for brands' initiatives and bulk display.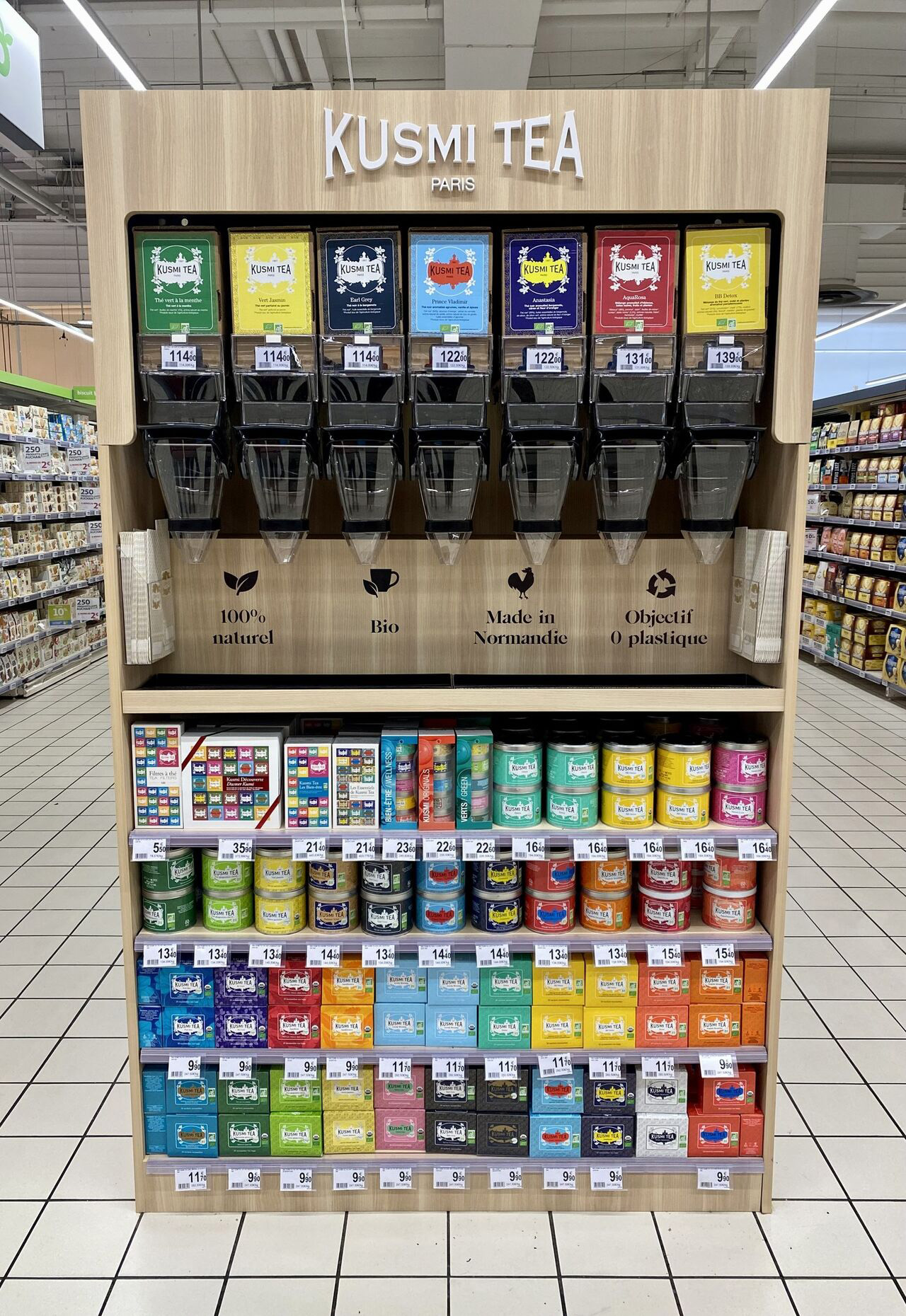 1100 words — bh
#zerowaste #merchandising #branding

October 11th, 2021, France adopts the law contre le gaspillage (against waste) and in favour of the économie circulaire, recommended by the citizens' climate summit. This important step in the fight against pollution goes beyond the European 'single use plastics' directive (SUP) and beyond voluntary ambitions by grocery chains in other countries.

The environmental law aims to provoke a disruptive change in the ways consumers do their everyday shopping. By promoting package free choice, they enforce a real and permanent reduction in single use packaging for food and other products.
"Gradually introduce an obligation to offer unpackaged products in all shops and impose a percentage", consumption - French citizens' climate summit (source)

Large +400 m2 grocery stores will be required to phase out single use packaging and dedicate a fifth of their surface to allow customers to buy products using their own reusable containers.

With the refill revolution just around the corner, more and more brands are experimenting with zero waste offerings. What is zero waste and what are the benefits? What questions are brands trying to answer through their experiments?
Before you move on
Designers and makers of point-of-purchase materials, display, merchandising and commercial furniture to equip shops, team Pilotes is committed to creating 100% custom-made, multi-material solutions, with a focus on environmental and societal benefits.
What is zero waste and what are the benefits?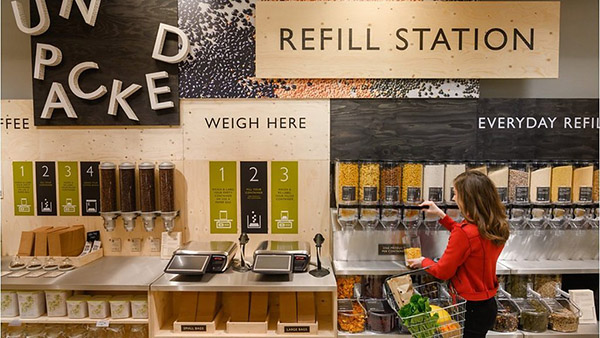 Zero waste or bulk sales is a form of marketing from an unpackaged choice. The idea is simple: customers bring their own containers to the shop, where they refill them with bulk products, such as vegetables, fruit, pasta, nuts, rice or others. It aim to eliminate excess packaging.

The shops buy unpackaged products in bulk from the manufacturers. The manufacturers deliver them in large quantities and not in pre-packed ready-to-sell doses. The products are sold by weight, and each customer buys the dose they need. This avoids food waste or allows customers to adapt their purchases to their budget. In addition to the environmental benefits, portion-ability provides a benefit to the wallet.
Refill Kellogg's cereals in supermarkets
Kellogg's tries out zero waste in eight French supermarkets. To start the day and feel energised all day, in this "Bar à Céréales" on-shelf bulk display the cereal specialist proposes six recipes, three of which display nutri-score A and artificial color and flavor free.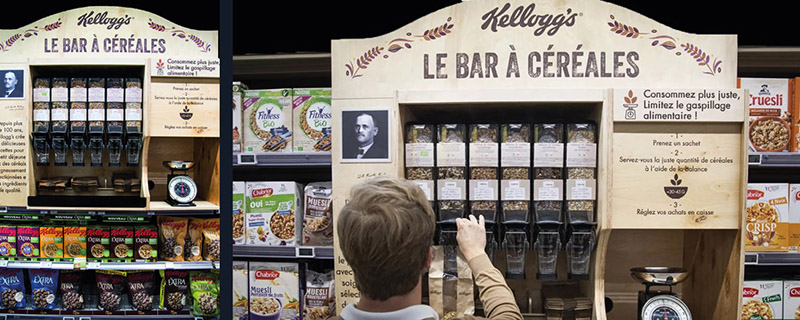 This eye-catching in-store display is specifically designed for this range. Made from 100% natural wood, it clearly conveys its values. Improving its image in terms of sustainability was clearly on Kellogg's wish list.
Refill Faire Bien yoghurt at Day-by-Day
Fairtrade and organic yoghurt brand Faire Bien, part of the Danone group, is distributed in eco and organic food shops. After an initial attempt in 2019, the brand resumes rolling out its refill dispenser in five shops from the iconic French zero waste chain Day-by-Day.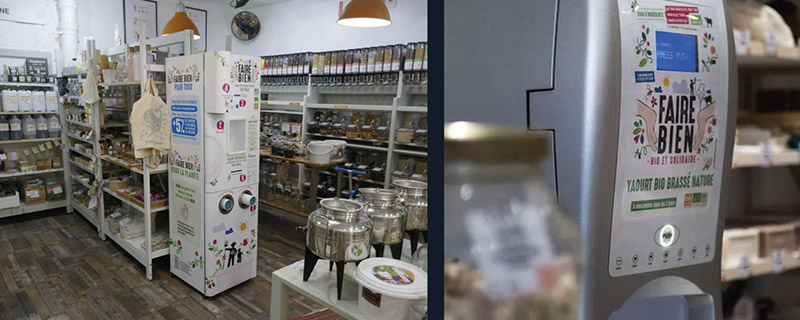 Buy the right amount and experience the pleasure of a good organic yoghurt without wasting. Faire Bien aims at an innovative and responsible consumption pattern.
Heineken tests a beer tap at Monoprix Montparnasse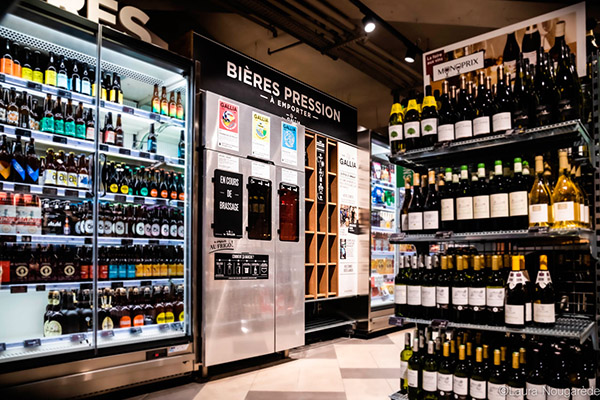 At Monop, the supermarket for la vie parisienne, Heineken evaluates a vending machine that allows customers to tap chilled, fresh and local beer for home. According to the brewer, this innovative way of consuming is more than sustainable; the vending machine increases the perception of quality.

The consigned bottles are made of glass, they have a 950ml capacity. The machine pours three beers from local brand Gallia. To tap the beer, the customer opens a hatch and puts down the glass bottle. The vending machine fills it in less then a minute. Then the customer seals it himself with a cap and sticks a label with a barcode on it.
Bel company tests packaging-free Babybel Bio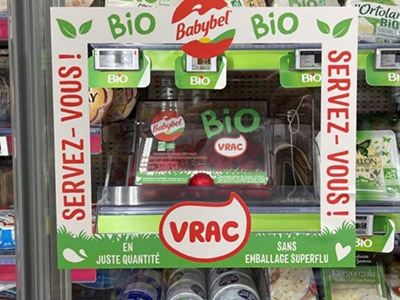 The playful mini-cheese Babybel for all occasions is sold in branded nets of 6, 12 or 18, with each piece wrapped in a branded plastic foil.

The manufacturer first tested an unpacked offer from a fridge in six Day-by-Day shops. Since October 2021, Bel has been analysing a zero waste choice for its organic variant in 23 shops of the grocery giant Intermarché. The cheeses remain packaged in their original red wax coating.

Without the net and without the foil, the brand is missing. That's why Bel developped a display that provides additional support for the brand experience. Join the Fun. Join the Goodness.
Body-Shop refill station: easy as 1, 2, 3.
Let's clean up our act to clean up the planet. With its must-see refill display for a set of 12 shampoos, showergels and liquid soaps, Body Shop is ready for the refill revolution.

Body-Shop is making its closest zero waste packaging choice as easy, convenient and accessible as possible. Go in, pick up a refillable aluminium bottle, (re)fill, (re)label, (re)use and repeat. Refilling is good for the planet and for your wallet.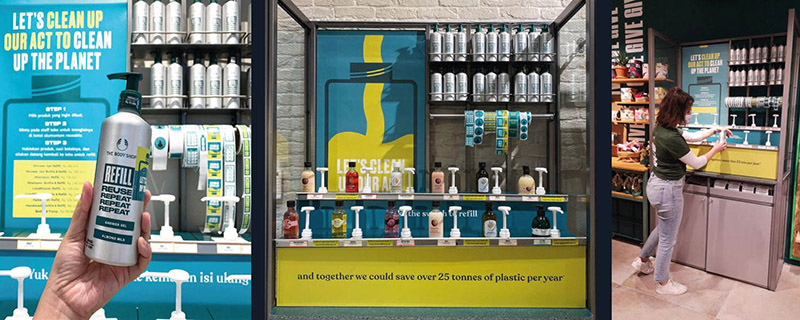 Body Shop first tested its refill display in 2019. It will be rolled across 400 stores globally throughout 2021 and Body Shop is launching a further 400 in 2022.
Ecover makes cleaning refills accessible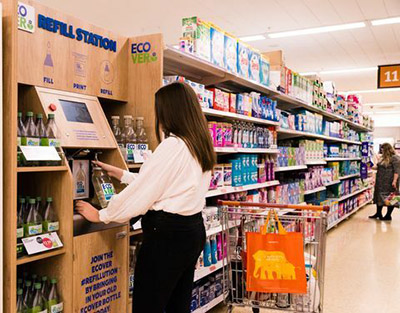 Reuse your packaging up to 50 times and refill easily with dish washing and laundry detergent or fabric softener. That way you use less plastic and get extra benefits!
Refill coffee beans at Jumbo
The Dutch supermarket giant Jumbo recently introduced in two shops a new display for bulk coffee beans. The brand La Place created a luxury concept using gold-coloured dispensers. The choice consists of seven different types of coffee beans from all over the world. They can be ground on site.
M&M'S: who said bulk display shouldn't be fun?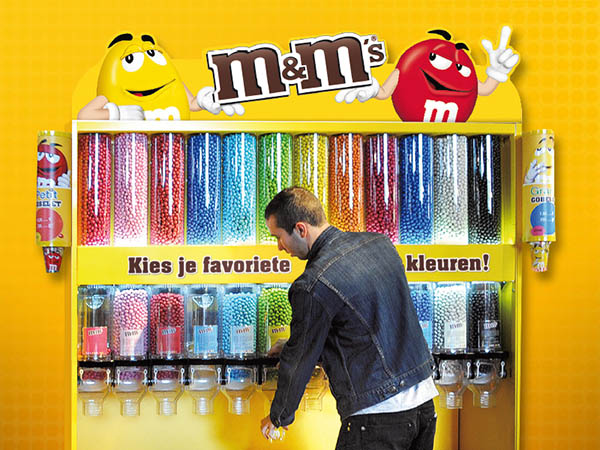 M&M'S is one of the pioneers of bulk offerings. At petrol stations, cinemas or in M&M'S Experience shops, sweet tooths could already tap their own favourite colour mix from silos. Colourful bulk display promotes this irresistible sales model. M&M'S had proven that bulk can also be fun and create an unforgettable brand experience.

In 2022, the chocolate giant partnered with Carrefour France to launch the world's first M&M'S bulk display in supermarkets.
Key takeaways
For decades, supermarkets have offered goods that come in all sorts of packaging. Given growing concerns and consumers seeking alternatives, mainstream supermarkets want to propose more unpackaged products. The choice for bulk is now at the heart of discussions between them and their strategic suppliers, the FMCG giants.

But how can brands avoid their choice is being perceived as generic? Will the same margins be generated if the sales model changes? What about hygiene and food safety? If packaging is gone, will brands still find ways of product marketing? How are the shop shelves best redesigned? How much shelf space can the bulk display occupy without cannibalising the packaged offer? What investments are required for the in-store display materials? And above all, how do customers react to bulk sales by their favourite brands?

Oct. 2022 — bh
---
Do you want to expand your offer in mainstream distribution with packaging-free products? We should be pleased to help you develop your bulk display and merchandising, as always adapted to your context and your brand. Contact us!