5 golden rules for an effective POP material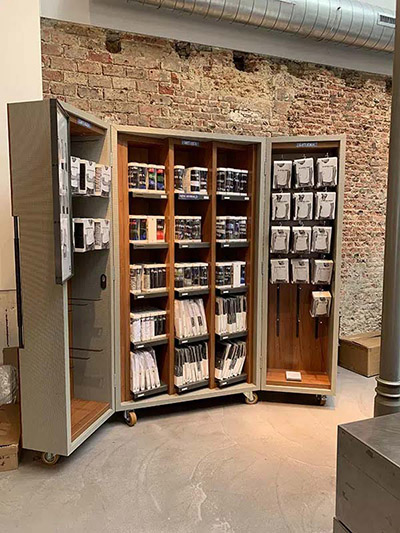 Even though the digital retail trade is flourishing, a display remains the ideal merchandising medium to bring your products to the attention of shoppers in retail sales spaces. Sales displays are appreciated by brand manufacturers and retailers to facilitate purchase and stimulate sales, to make retail spaces interesting and exciting ...

POP materials have an impact on consumers at the decisive moment of purchase: more than one in three shoppers notices these merchandising tools and is seduced by them. Visual impactful, visible, clear and easy, they deliver significant added value to the point-of-sale.

There are three main display types, that can coexist:


The countertop display unit: the ideal support for your impulse items in the smallest sales space.
The floorstanding display unit is placed directly on the shopfloor and is the ideal support to make it easy to sell your assortment.
The shelf display grabs shoppers' attention walking through a shop' corridors.
Whatever solution you choose, 5 (simple, but essential) principles must be respected for your POP material to be successful.
1. Define the objectives of your project
The aim of each merchandising project is to get something new off the ground within a certain period of time. Depending on complexity, you can expect an average time of three to four months before installation of a permanent sales display on the shopfloor. Count on a period of 2 to 3 weeks to develop, test and adapt ideas, 3 to 4 weeks for technical engineering and prototype, and finally a minimum of about 6 weeks for production, after which your logistics operations start. Although your POP partner can assist you, it is important that you, as a project leader, determine what the desired solution should look like: Promotional, temporary or permanent? Floorstanding, countertop or shelfdisplay? Desired effect ? The 10-5-1 rule can serve as a basis: a display will generate interest at a distance of 10 metres; a display will clarify the range of products at a distance of 5 metres; and at a distance of 1 metre, the items on display are differentiated from competing offers!
2. Focus on functionality
Clear and simple merchandising brings greater effectiveness! Without completely losing aesthetics, practical considerations are more important: dimensions are adapted to the shop concept, the department and the aimed place on the shopfloor, visible at a glance, readable and easy for shoppers ...
3. Involve all departments in your project
When developing the ideal POP material, it is essential to share the project internally! Product and trade marketing, finance, purchasing and sales departments.... They are all valuable allies in the creative process and in the practical roll-out operations.
4. Your article is the star of your creative brief
Each creative process starts with a solid, coordinated creative brief. This can never be too precise. Which and how many products should be displayed and at what prices are they offered? What is the story, the promises, the values and the graphic charter of your brand? Although they can evolve, it is essential to keep an eye on planning, volumes and costs for creation, production, logistics and installation....
5. Coordinate delivery and practical operations
A successful display is a merchandising material that is correctly installed on the shopfloor! The last step of your POP project, logistics and shop operations, needs to be carefully planned. Adapted packaging ensures trouble-free logistics. Retailers should be informed in advance of the number and weight of pallets being transhipped, so that they can prepare for the practical organisation and reception on the shopfloor. Ideally, your sales and merchandising team is involved in the design of user instructions and all practical arrangements for an effective, successful installation of the material.

Yes, you can :)

Read more ?