In matters of taste and colors, there can be no disputes


Home & Interior: the best POP Display Solutions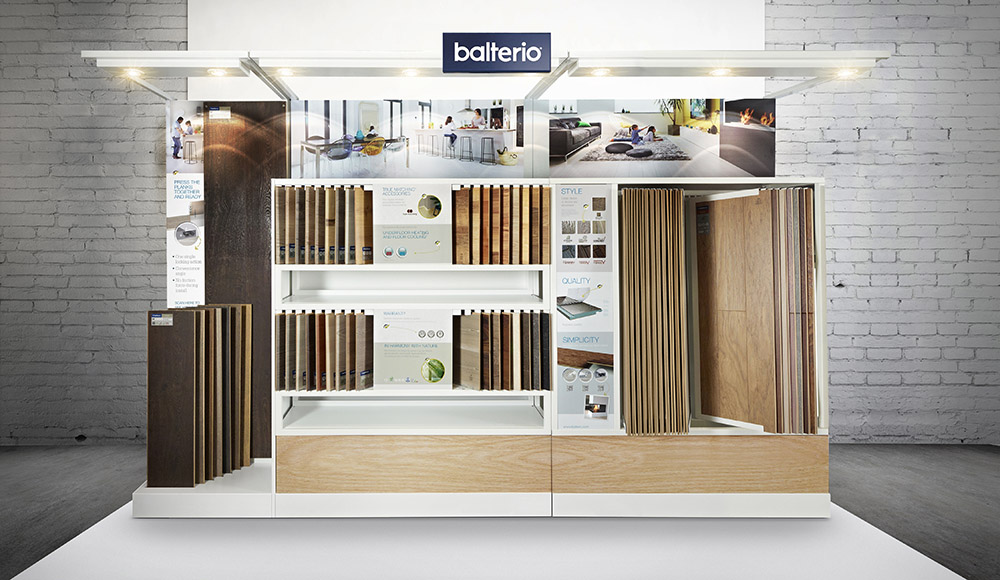 Shopping for interior design is a hassle. The decisions we take on a busy Saturday may haunt us. It's important to represent each member of the household in the decor.

And then there's the oh-so-tedious but important technical specs that we must try to understand. And we are in a hurry because our youngest must be picked up from basketball and we all want dinner on the table tonight.

We are talking about the styles and colours of our walls, floors, and fabrics. Whether we prefer a natural, eclectic or rough look, we are on a mission to create the home we'll love.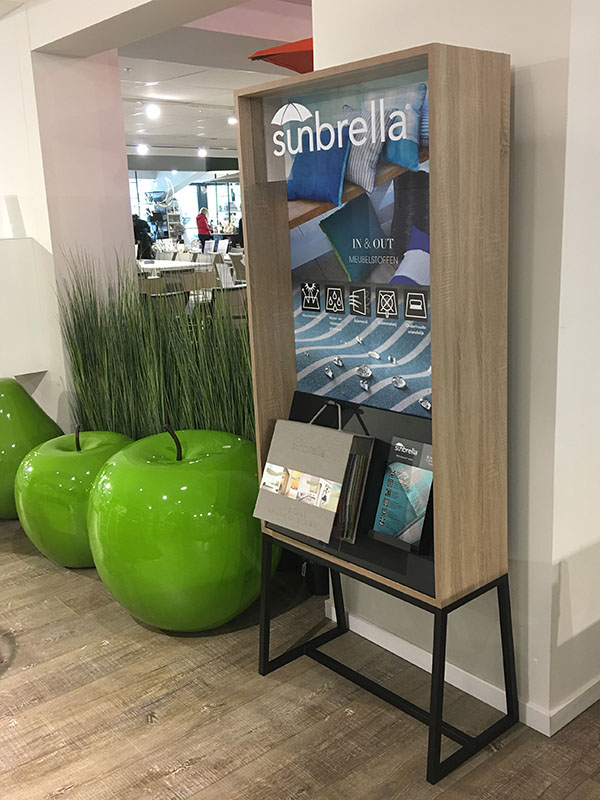 Some will stick to a personal mood board, at-last agreed on around the kitchen table. Some divide the priorities, "you check the technical stuff and price, I get to choose the color!". Some place their destiny in the professional hands of a talented interior designer. Others only trust the spontaneity of the moment, "serendipity cannot be planned !" Hey, wait! Didn't Britney say her new favourite is no longer pink ... it's yellow? Our personal preferences are subjective. We would never argue about it, wouldn't we?
Before you move on
Designers and makers of point-of-purchase materials, display, merchandising and commercial furniture to equip shops, team Pilotes is committed to creating 100% custom-made, multi-material solutions, with a focus on environmental and societal benefits.
The showroom of interior designers, the home interior store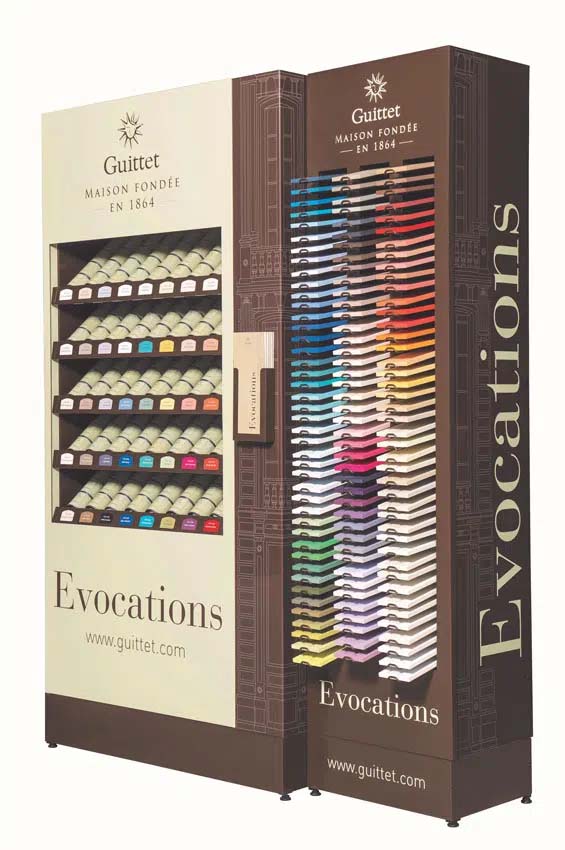 Welcome! You are in a store where you leave empty-handed: parquet, laminate or vinyl flooring, rugs and carpet, tiles, wallpaper and paint, window decoration and all types of fabrics, … The materials we find in showrooms make our interior come alive. We choose emotion and experience, feeling and cocooning. We dream away with our new, modern interior and let ourselves be carried away to an oasis of peace.

For manufacturers of interior merchandise the showroom is a battlefront. All want to be ahead of the curve with their latest arrivals! They constantly add new decors to inspire homeowners incessantly. They tempt you to find your liking among their latest collections, exceeding the highest standards in design, maintenance, ease of use, and durability. Moreover, they are delivered promptly! So please order fast from our wide range.

In showrooms most merchandise is ordered from samples. Sample books, swatches and boards present existing materials for evaluation; they are shown as proof of quality and serenity. Colours, shades, patterns, lines, textures, contrasts, reflections, shapes... the key to an aesthetically pleasing interior lies in the harmony between all these elements.

Instore communication solutions, such as POP display units, present both the samples and inspiration. With a focus on premium fixtures, let's have a look the benefits of displaying; together with a selection of materials with which we've been entrusted.
Display helps designers present the collections
All brands for interior decor want their samples to be presented neat and tidy in stores, though the latter are often limited by time and space. Therefore, some suppliers will spend a lot of energy on the development of the most suitable display solutions, 100% aligned to brand and product.

Though retailers may have restrictions that limit what brands can do in showrooms, by offering their collection in a clear and convenient fashion with an attractive display, manufacturers can prescribe how they want their samples to be presented, saving both themselves and points-of-sale time. Especially useful when space is at a premium, the ideal presentation will help brands to obtain support from interior designers. Shopping karma is real!


Displaying organizes spaces, categorizes, educates and makes sales conversation easier
For larger libraries, chances are clients, together with the sales staff, find the options as too overwhelming. This situation can lead to decision making becoming "paralysed", increasing the likelihood of not making a purchase.

Visual shortcuts, together with information and educational content, can facilitate choice under time pressure - work and family are waiting, remember? The better an in-store presentation is organized, the more the customers will want to engage with its offer, with confidence and better informed about all features, such as use, technical specifications, benefits and value... It is in the physical store that these stories need to be told!

A structured display not only looks good, but enables customers to find more quickly what they like. Effective communication not only guides the stressful activity of complex choices, but improves the staff's handling of the situation - and gives them the benefit of knowledge and expertise.


A display unit creates the ideal ergonomics
This is particularly true for larger or irregularly shaped samples, such as sample boards. Heavy and unhandy, they represent a risk something goes wrong when interacting. Chances are that the customer walks away irritated without ordering.

Once clients have navigated a collection and reduce choice, they deploy all senses to scrutinize a limited number of samples. Ceramic tiles are touched. The authentic reflection of light of laminate flooring is evaluated on the ground. The transparency of window textile is assessed in natural sunlight. "What you see is what you get" is real, and the customer wants to know what he or she is getting.

Some shoppers are more precise than other! A perfect fit ensures that the precious samples are put back where they belong - and not lost, ready for the next customer.
Kinds of interior merchandise display
When it comes to displaying interior merchandise, there's essentially five kinds of racks: stairs, toast, waterfall, book (or wing), and slide (horizontal or vertical).

To be a bit more distinctive, brands could image alternative solutions as long as it combines an intuitive navigation of the decors with minimum footprint. And remember that everything has to be super-user-friendly.

Display appeals to the target audience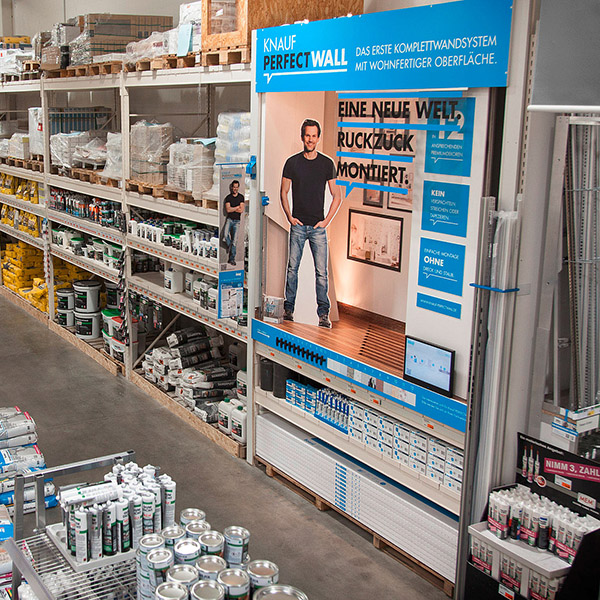 A brand is more than just a name and a logo. Brands stand for what type of people buy a brand. With a coherent and recognizable image, display materials won't go unnoticed by the target audience. This can be done through key identity elements: design, color, materials, imagery, graphics, language, … The best brands leverage them consistently in any touchpoint with their target audience.
Display design makes physical sales spaces interesting and dynamic
By rising above the visual noise of showrooms, display design allows to highlight a brand among others … and to anchor a memorable image in the minds of customers! Display is the expression of the creative imagination of a brand. Aligned with the DNA of the brand, it immerses the buyer in its universe. Whether a collection is medium quality, high-end or luxury, Display design makes a presentation effective. Conveying quality, value or emotions, it associates the desired visual experience or brings a touch of authenticity.


Lighting appears on shoppers' radars
There are a thousand ways to attract the attention of new customers. And new possibilities keep appearing - some are louder than others. With shoppers increasingly cynical and resentful of advertising, lighting remains a powerful tool that can attract and focus their attention to the offer. When used in smart and subtle ways, elegant lighting, perfectly adjusted to the situation, can appeal to customers, and invite them to jump into the collection and work with the samples.

For in category of interior merchandise, lighting can have a significant practical benefit. By highlighting products and their properties, such as textures and contrast, accent lighting can give a collection a unique look and draw attention to the details, carefully developed by your R&D team.

Use light anywhere you feel you could benefit from a little extra push!
Colors click the eyes of prospects
When consumers visit a home furnishing store, they focus on the visual experience and the presentation of the merchandise. Every effort is made to tempt the visual senses. Because the perception of colour requires little effort, it is the most direct vector of emotions.

The importance of a sophisticated colour palette for any display material cannot be overestimated. And while they are one of the most obvious elements in any design, the right colours take on a powerful dimension when combined with the right materials in a presentation that reinforces the brand's promise.

💡 Related article -> How the colours of POP display influence shopper behaviour?


Materials options are vectors of emotions
When selecting materials for POP display, you have several different options available. Wood, metal, plastic, glass ... each material has its pros and cons. Selecting the proper material involves knowing what material works best for display and for your brand, because the materials of display influence shoppers in many ways.

The key being distinctive, material options can help to meet less emotional, more technical objectives, such as lifetime, resistance, weight constraints of the samples, engineering and industrialisation, compliance with standards and regulations, eco-design and end-of-life.

Related article -> Material Options for the Design of your POP display
Operations and display roll-out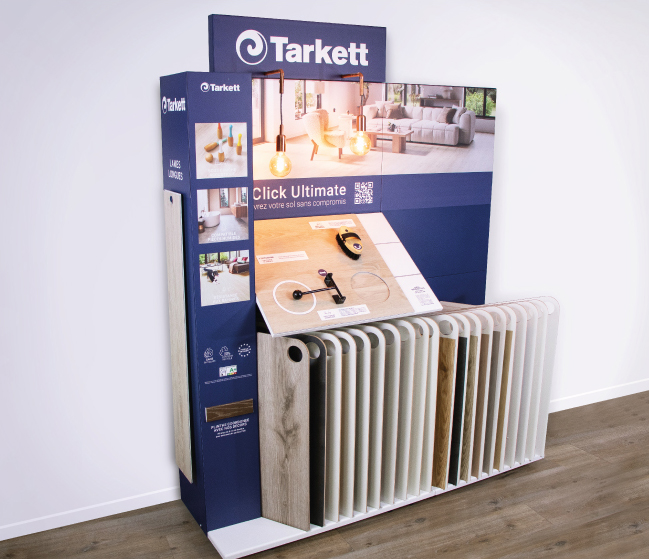 A display material is as successful as the quality of its installation in showrooms. This last step, logistics and deployment must be carefully anticipated!

Packaging aligned with warehousing operations ensures trouble-free logistics. Retailers should be informed in advance of the number and weight of pallets being transported, so that they can prepare for the practical organisation and reception.

Ideally, your sales team is involved in the design of user instructions and all practical arrangements for an effective, successful installation of the material.

Remember: get touchpoints with store visitors wrong and everything else in your marketing plan will be less effective. Get it right, and you'll improve the efficiency of your whole marketing budget and strategy.

Appealing display materials can make the difference between attracting a prospect or losing a customer to a competitor. Here at Pilotes, we believe in the power of premium display. Our 25 years of experience allows you to enhance the appearance of your offer at dealers. Reach out today to set up a free consultation. We'll find the best solution for your brand.

Date: Sept. 2021 — bh