Shopping experience

, yeah !
But, what are we talking about ?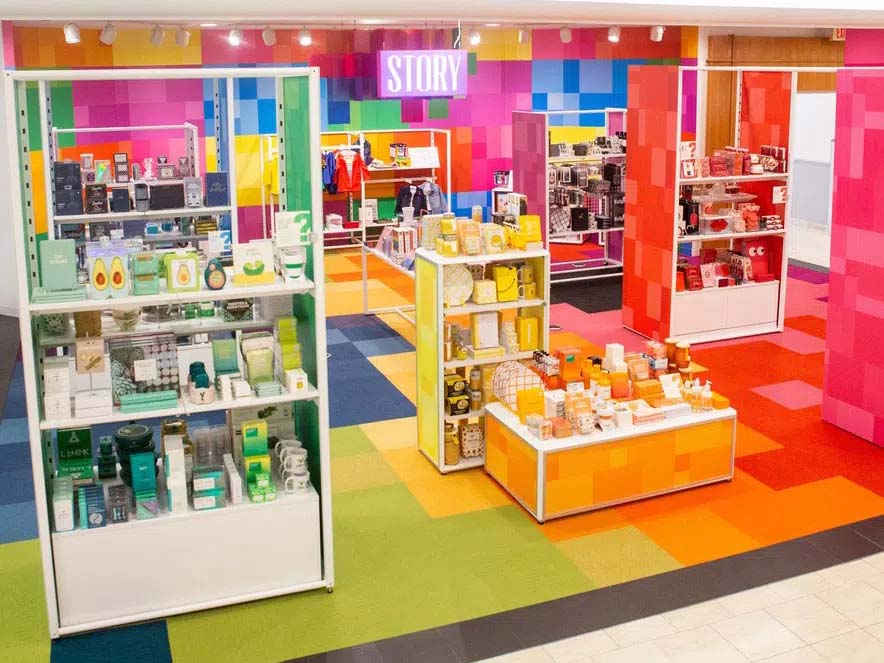 Every retail marketer agrees on this point: when shopping offline, consumers aren't just buying a product; they're buying an experience. But what are we talking about? How about retailers develop experience?

For best-in-class experiences, we may turn our attention to the world's most luxurious retail spaces, flagship concepts and shopping centers. Obviously, retailers can't bring the same service levels. However, with the right experience level, in relation to merchandise on the shelves, any brick-and-mortar store can go against online. After all, why shop offline, if a store can't face the quite high expectations – particularly from Millennials – for a positive, emotionally engaging experience?

Let's dive in some experiences stores can bring.
Before you move on
Designers and makers of point-of-purchase materials, display, merchandising and commercial furniture to equip shops, team Pilotes is committed to creating 100% custom-made, multi-material solutions, with a focus on environmental and societal benefits.
Touch, feel and try
The tangible, tactile nature of offline shopping is viewed as the most important experience that motivates or influences shoppers. According to a 2017 Mood Media study, 78% of consumers cite the ability to touch, feel and try products as their number one reason for shopping offline. Retailers understand this very well. Exemplary are the test area at DIY and sport specialist retailers. And, for a long time, the cosmetics and fragrance industry has integrated sensorial experiences to tempt consumers valuing the stimulation provided by seeing, hearing, touching or smelling.


Human engagement
When questioning shoppers, engagement with store associates always comes up. But, online research brings us experts shoppers. They not only demand excellent expertise, but also a personal customer service. Technology can help in this case. Tablets or vendor apps can help associates, providing additional product information, access to online merchandise (not available on the shelf), or customer information (purchase patterns, loyalty …) to deepen the relationship and elevate engagement.


Workshops
Many do-it-yourself stores offer workshops to help customers develop their skills. They allow customers to experience, develop curiosity, gain confidence and encourage buying. Building community through craftsmanship, customers enjoy making things with their hands, ask questions, explore new materials, and have fun. These experiences create a strong bound with retail brands, often turning them into ambassadors -who will not fail to gossip about the handy instructor. Leisure specialist retailers now also offer all kind of workshops. Cooking classes are a powerful place to get acquainted with shops and to discover new products and brands.


Dedicated benefits
The Genius Bar is a support station located inside Apple's retail stores, the purpose of which is to provide concierge-style support for customers of Apple products, without appointment in a cozy and informal atmosphere to play down the technical problem. This is a good example of a dedicated service in relation to the merchandise on the shelves. For a long time, the cosmetics and fragrance industry has adopted services of express make-up, manicure, etc … Not to mention textile and repair shop-in-shops, … in-house decoration coaching, personnel shopper service … or finally, click and collect.


Entertainment
A few years ago, ambience, sound and activity came to fashion to invite customers in a mood to buy. Retailtainment, or the intersection of retail, product testing, learning and entertainment, calls for retailers to look further than traditional elements such as colour, lighting and visual merchandising to influence buying decisions. When it comes to entertainment, the toy range is the number one range where offline has more to offer than online. In these times that shoppers look more online for their toy purchases, offline can go against the flow using the strong affective and emotional dimension of this particular range. At the same crossroad, sports and fitness retailers offer entertaining activities to discover different sports, experience the quality of the leisure activities, test merchandise … and have fun!

No doubt we could extend the list. To waken millennials' desire to shop offline, retailers and brands are continually developing innovative value-adding experiences. As competition intensifies, great shopping experience is both a necessity and an advantage.

According to the 2018 Observatory Cetelem Millennials study, "I Like Shopping", shops aren't heading towards obsolescence. Worried that standardization will dampen their desire to shop, millennials are interested in happy, fun, friendly, attractive and original places to go, shops that surprise with fun and sensory experiences (61%), provide areas in which to relax (52%) and enjoy leisure activities (53%).

Obviously, all experiences should fit the store's theme, with the right merchandise on the shelves at the right prices. And, all this will only work if all shopping irritations are addressed and the working environment holds professionalism in the heart.

Date: 15 oct 2018 — bh